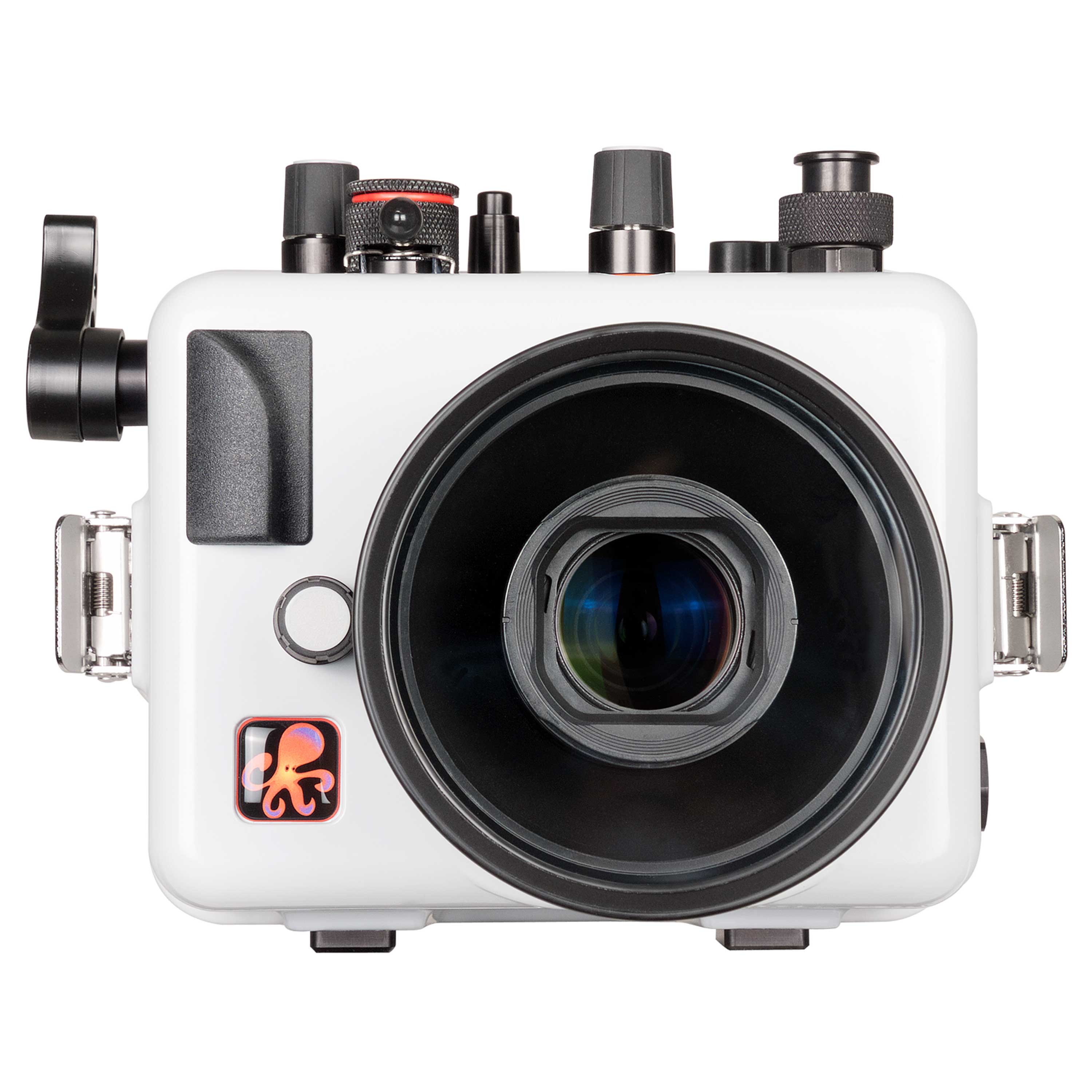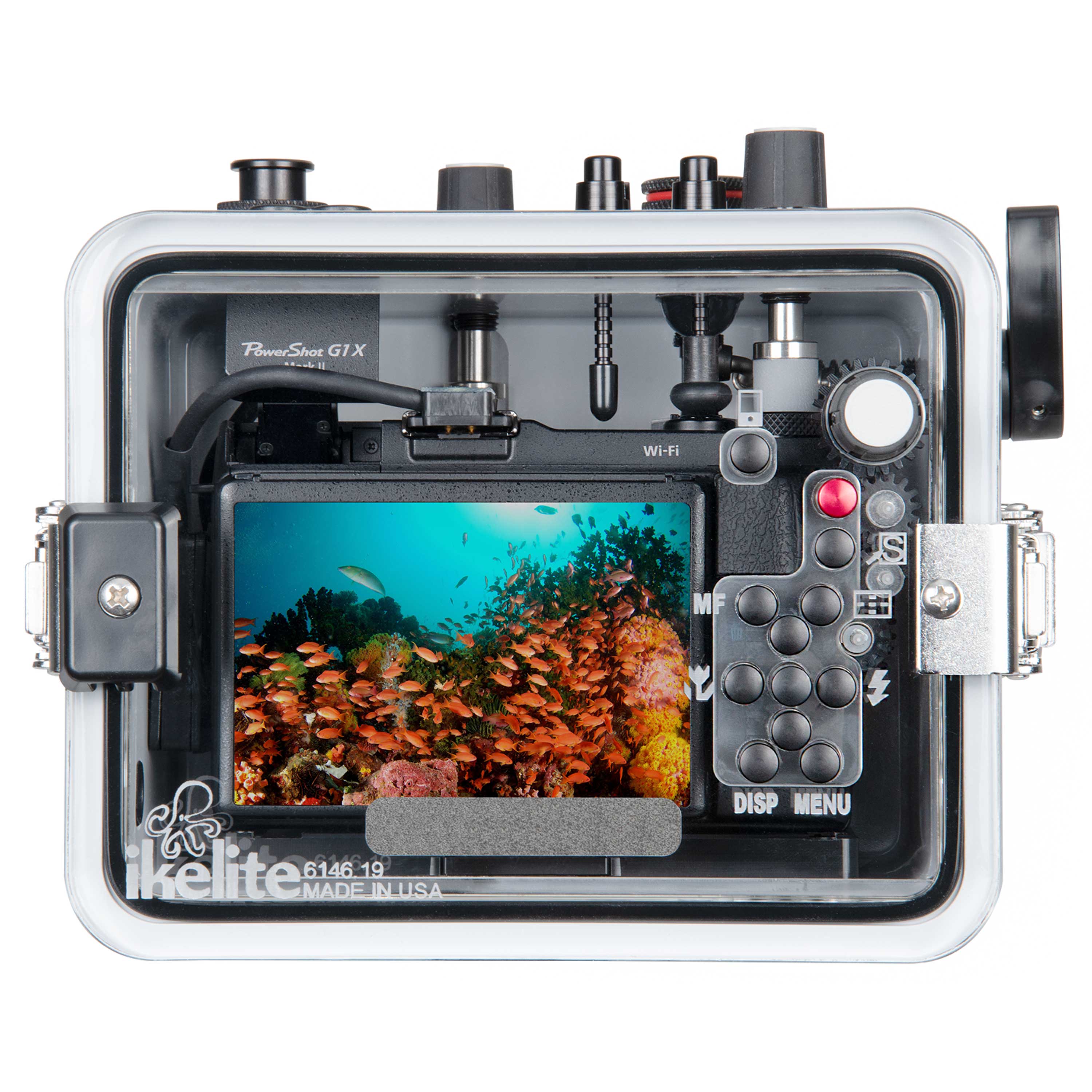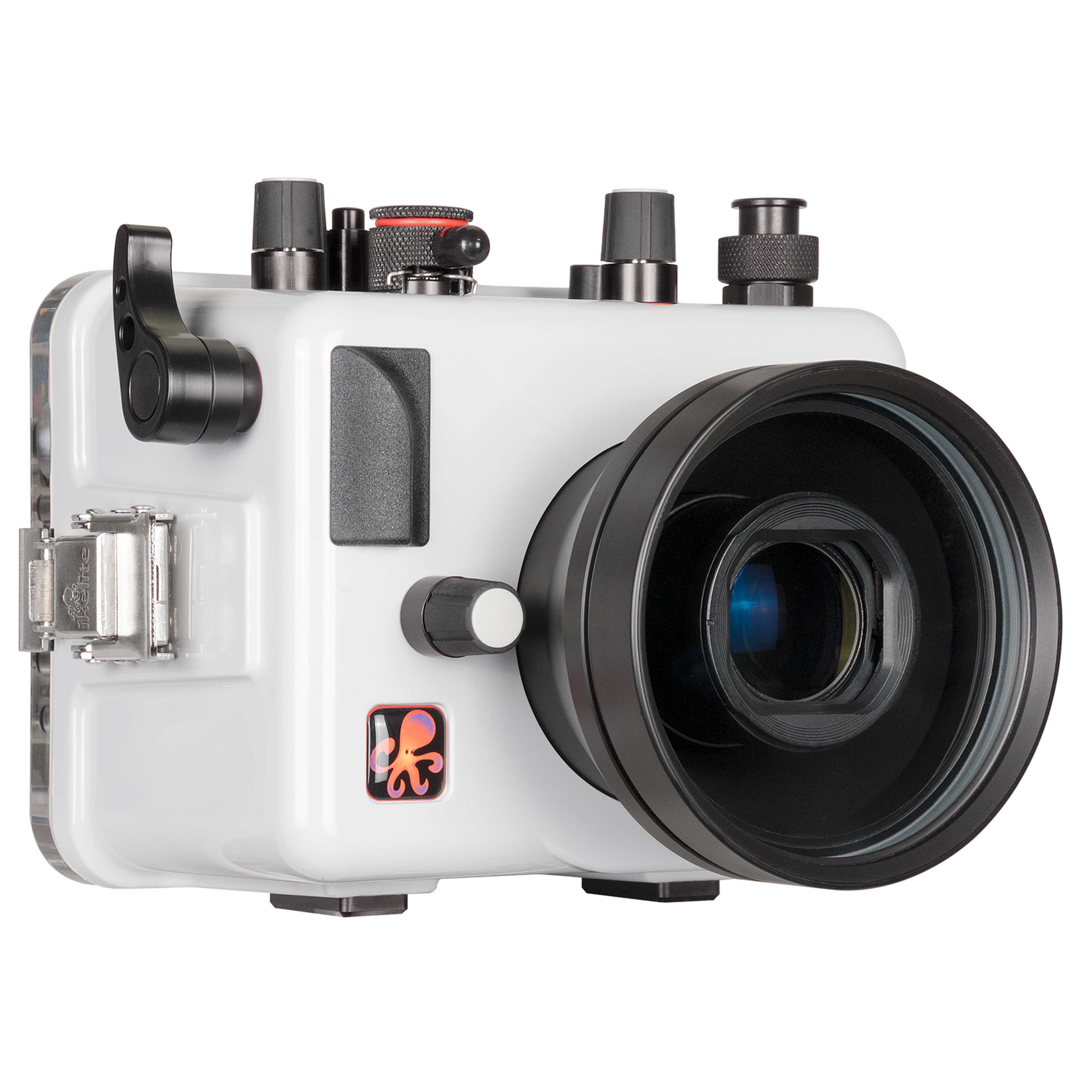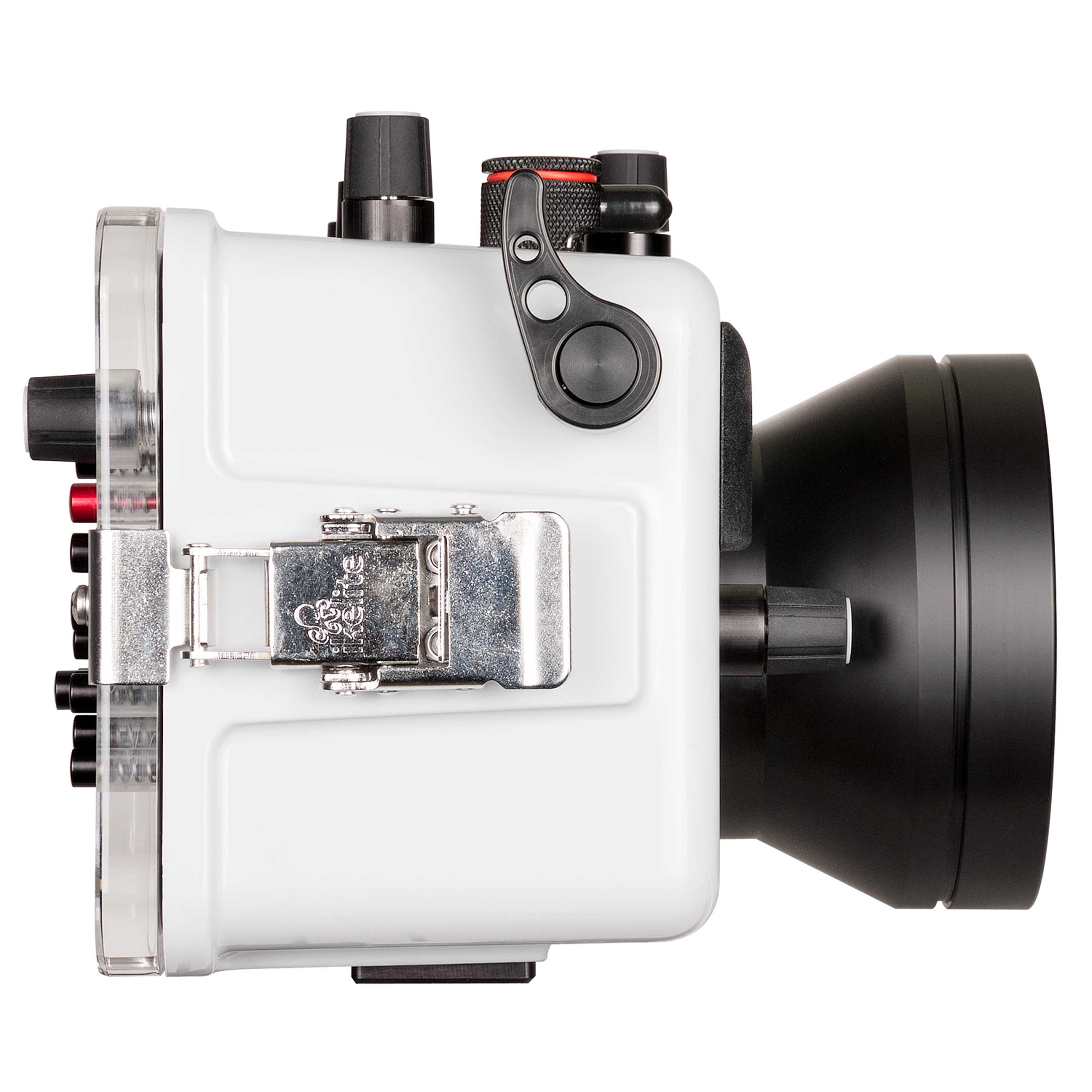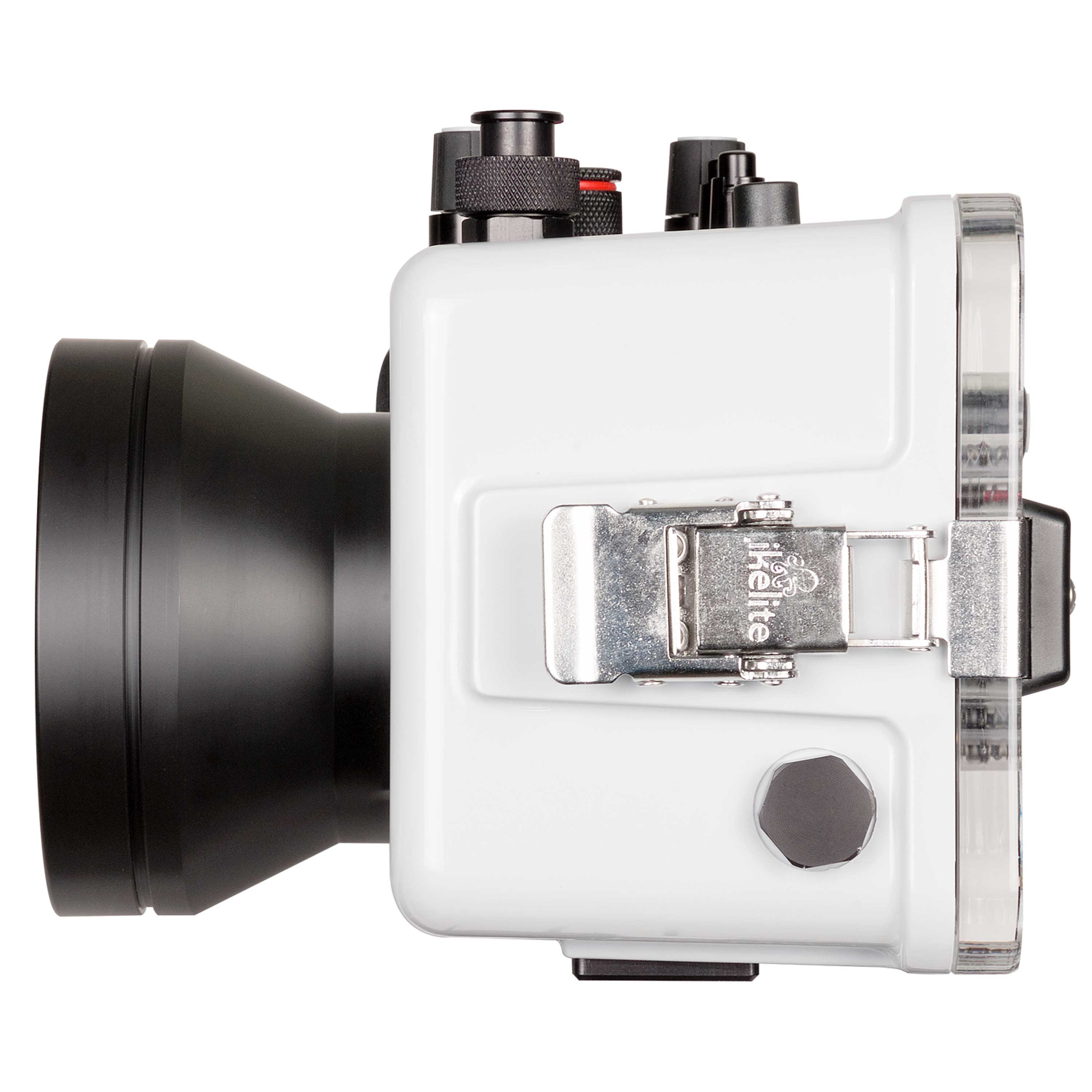 SKU: 6146.19
Underwater TTL Housing for Canon PowerShot G1X Mark II (Updated)
---
This housing is out of stock and permanently out of production. We have no remaining new, blemished, or used inventory. We continue to provide service of this product even though it has been discontinued.
A full featured and durable underwater housing for Canon PowerShot G1X Mark II digital cameras. Perfect for scuba, snorkel, surf, pool, and any application in or around the water.
This product replaces the original housing for this model product # 6146.02. This new housing includes all of our latest improvements. 
Construction
Our ABS-PC blend housing provides strength and corrosion free performance year with minimal maintenance. The specially formulated color deflects the sun to keep your camera running cooler, longer. Compared to black or clear housings, the light color provides superior contrast for enhanced view of the camera, LCD screen, and o-ring seal.
Ikelite products are designed, built and tested in the USA. We use locally sourced, top-grade materials. Our housings are built by hand and individually tested for fit, function and waterproof integrity. We back our products with over 50 years of experience and service within the dive industry.
Ergonomics
A slide-in, front loading camera mount makes this housing a breeze to set up and shoot. Controls are provided for all important camera functions including front and rear control dials. Controls are placed in an intuitive position and designed for comfortable access whether you're holding the housing or an add-on handle.
A sensitive shutter lever makes it easy to half-depress the trigger for focusing and metering. Rear push button controls are laser engraved for identification with a new bright red push button for the video record start/stop. 
The camera's large LCD screen can be seen clearly through the back of the housing. 
Flash
Due to the position of the camera's flash in relation to its lens, the built-in flash is not suitable to illuminate photos under water. For the best color and clarity, we recommend adding a filter, strobe, or constant-on light.
True Canon TTL Exposure
TTL or "Through-The-Lens" flash metering means the strobe interprets information from the camera to control flash duration and properly expose an image. TTL may be accomplished directly through electrical signals from the camera, or indirectly through watching the behavior of the camera's built-in flash.
Circuitry built into this housing allows the camera to communicate directly with compatible underwater strobes (see Strobe Compatibility section below). When connected via this circuitry, the camera learns that an external flash is attached and is able to more accurately adjust exposure by knowing this. The camera's flash will not fire, eliminating the shutter lag associated with waiting for the camera's flash to recycle.
Sync Cord Connections
The Ikelite-style electrical bulkhead is widely recognized as the most reliable waterproof strobe sync connection available. In order to communicate with the camera, compatible Ikelite DS strobes must be connected to the housing's electrical bulkhead using a single or dual TTL sync cord.
Non-Ikelite strobes may be connected to this bulkhead using a compatible sync cord, however the housing's circuitry will not receive power and the strobes will operate in manual exposure modes only.
Whether in TTL or manual exposure, use of an electrical sync cord eliminates the issues of signal interference, inconsistent exposure due to weak fiber optic transmission, and false triggering caused by light rays bouncing off the water's surface or your buddy's flash going off. Sync cords are comparably priced to fiber optic cords and are equally durable.
Fiber Optic Connections
Two ports are provided for the connection of up to two Ikelite-, SEA&SEA-, or Olympus-type fiber optic cords. The housing's built-in TTL circuitry will not be operable when external strobes are attached via fiber optic cord. Refer to the Flash via Sync Cord section for information on utilizing the built-in TTL circuitry.
Any Ikelite DS strobe may be connected using the Fiber Optic Converter # 4401.3 and Fiber Optic Cord # 4501. The AF35 strobe is not compatible with this housing.
Read more about adding a fiber optic strobe...
Tray with Handle(s)
The optional Tray with Quick Release Handle # 9523.63 and Tray with Dual Quick Release Handles # 9523.64 provide a balanced grip and are the perfect platform for adding lighting accessories.
Either tray mounts to the bottom of the housing with two 1/4-20 threaded screws for secure and rotation-free use. Our uniquely curved grips are rubberized for a comfortable grip and provide a quick release mechanism for adding and removing light arms.
Zoom, super macro, and semi-wide angle
The standard 3.9" diameter optical glass port accommodates the camera's full zoom range underwater. 
Add the press-fit Macro Adapter # 9306.82 with any 67mm threaded macro wet lens for incredibly super macro photography. Compatible wet lenses include but are not limited to the INON UCL-165, Subsee Magnifier, Saga close up lenses, Nauticam CMC-1, and others.
Read more about shooting Super Macro here...
The optional WD-4 Wide Angle Dome # 6430.4 provides a wider angle of view underwater without the edge distortion, vignetting, or weight typically associated with an external wide angle wet lens. The WD-4 is a 0.75x magnification factor and simply slides on and off of the housing's lens port. 
This camera is not compatible with our DC-series 6" dome ports due to the front diameter of the lens.
3.9" diameter color filters press directly onto the front of the standard lens port. We offer color filters for Tropical Blue Water # 6441.46, Green Water # 6441.86, and a Yellow Barrier Filter # 6441.16 for fluorescence photography.
Sealing and Vacuum Testing 
There is no greater assurance than being able to see your camera and o-ring seal through the back of the housing. Our signature open-groove design suspends the rear o-ring in a natural position that is easier to maintain and more reliable than forcing the o-ring into a channel. Once the housing is closed you can see the o-ring form a solid, waterproof seal.
A spare 1/2-20 threaded accessory port is provided on the side of the housing for easily installation of the optional Vacuum Kit # 47012. A hand pump with gauge allows you to draw a vacuum on the housing to simulate water pressure and check for leaks prior to entering the water.
Every unit is water pressure tested to 200 feet (60m) before it leaves our facility in Indianapolis.
Compatibility
Other Canon G1X Mark I and Mark III cameras are not usable in this housing due to differences in lens and control placement.
The Canon Enhanced Grip GR-DC1A cannot be used in this installation, as the thickness of this grip interferes with gearing necessary to drive the camera's front control ring. Please note that some European models may be shipped with the larger "Enhanced Grip" and that this grip must be removed prior to installation. Cameras featuring the "standard" grip as shown on the Canon USA website may be used without modification.
Specifications
200 ft (60 m) depth rating
Controls for all camera functions except Flash up switch; camera's built-in flash may be extended during installation
Ikelite bulkhead connector with built-in TTL circuitry
Slightly negative buoyancy in fresh water
1/4-20 threaded tray mounting with 3" (76mm) spacing
Weighs 3.4 lb (1542 g)
7 x 5.8 x 7.3" (178 x 147 x 188 mm)
3.9" diameter glass lens port
2 year limited warranty
In the Box
Housing
Rear o-ring # 0110 (installed)
Vinyl port cover # 0200.08 (installed)
Waterproof bulkhead cap # 9104.7 (installed)
Silicone lubricant 1cc tube
Documentation