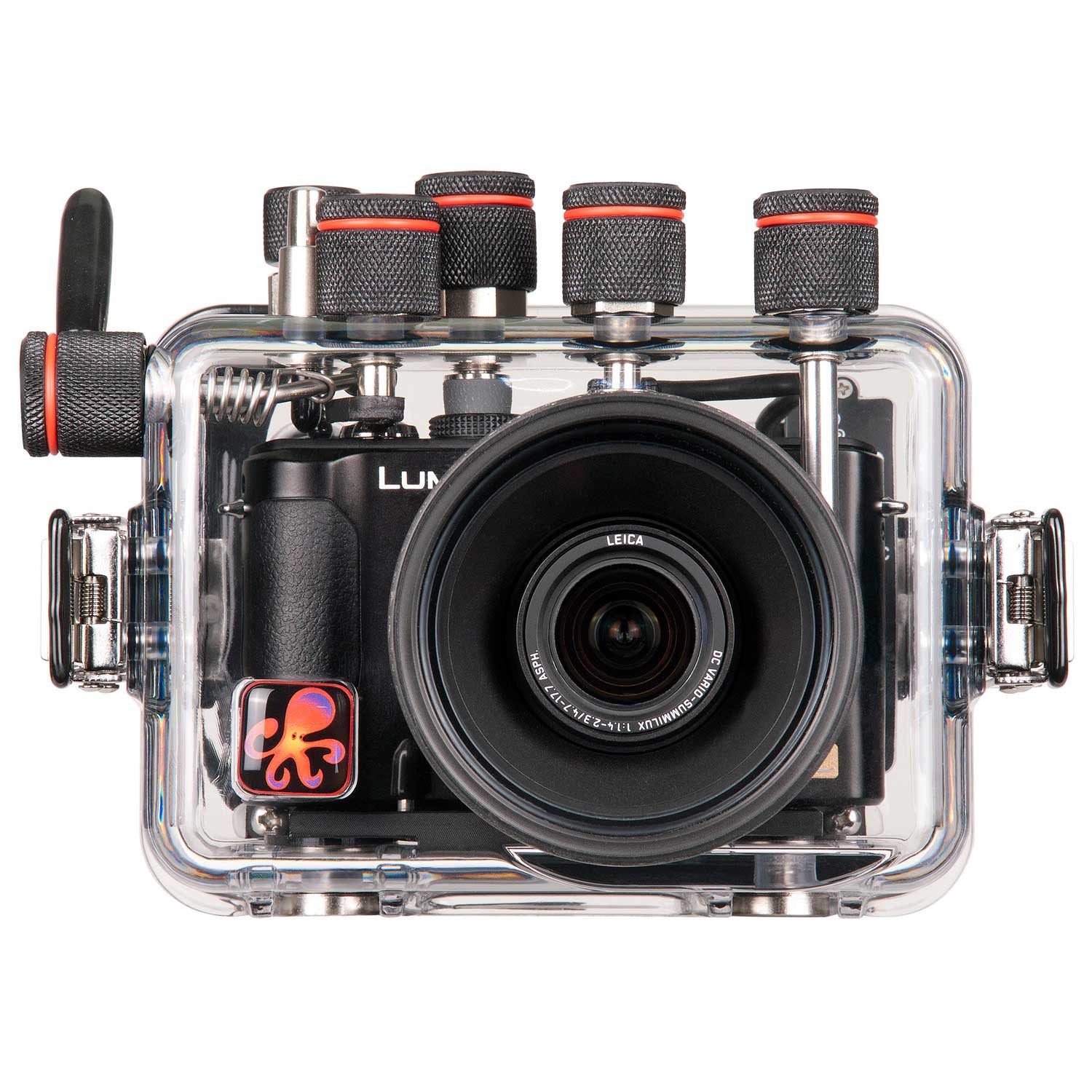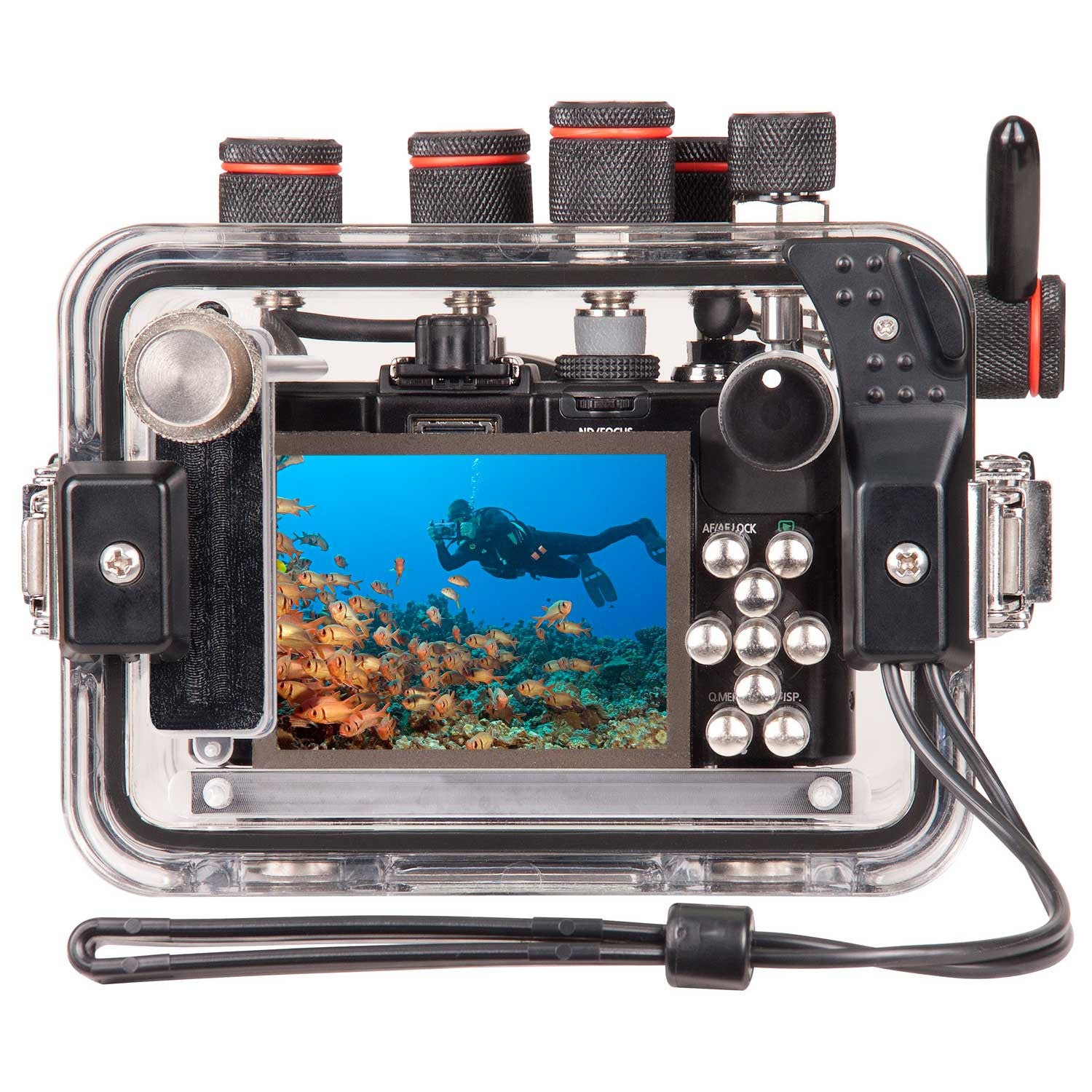 SKU: 6171.07
Underwater Housing for Panasonic Lumix LX7 Leica D-LUX 6
---
A full featured and durable underwater housing for Panasonic Lumix LX7 and Leica D-LUX 6 digital cameras. Suitable for scuba, snorkel, surf, pool, and any application in or around the water.
Dive into underwater photography with this compact yet sophisticated system. Durable polycarbonate and acrylic construction provides a unique view of the camera to ensure correct waterproof installation and confidence underwater. Simply close the two stainless steel locking lid snaps, and see the o-ring form a solid black, watertight seal. Large, ergonomic controls provide access to all important camera functions.
TTL or "Through-The-Lens" flash metering means the camera controls flash duration to properly expose an image. Unique intelligence built into the housing communicates to the camera when a compatible external TTL flash is attached and transmits exposure information. This allows the camera to adjust the compatible strobe's power with incredible accuracy. Other benefits include reduced shutter lag, longer battery life, and less heat build up as compared to fiber optic systems which require the camera's built-in flash to fire.
Ikelite products are designed, built and tested in the USA. We use locally sourced, top-grade materials. Our housings are built by hand and individually tested for fit, function and waterproof integrity. We back our products with over 50 years of experience and service within the dive industry.
Wide Angle, Macro + Filters
Our 3-inch diameter ports feature a 67mm thread on the front for the easy attachment of external wide angle and macro wet lenses. Wide angle lenses make objects appear smaller, so that you can fit more into your frame underwater. Macro close-up lenses make small objects appear larger, so that tiny creatures will fill your frame.
The WD-3 Wide Angle Dome provides mid-range angle of view with no vignetting (dark shadows in the corners of the image).
The W-30 Wide Angle Lens, INON UWL-H100, and other 67mm threaded wide angle lenses, provide a wider maximum angle of view. Because these are separated from the camera's lens by glass, air, and water, some vignetting and edge distortion will be present. These effects can be reduced or eliminated by using a smaller aperture, zooming in slightly, and/or cropping in post-production.
External macro lenses with 67mm threads from INON, Epoque, and other manufacturers, can be attached directly to the front of the housing's port.
3" diameter color filters press directly onto these ports. Most wide angle lenses require a 3.6" diameter color filter. Refer to the product page for information on color filter compatibility.
Specifications
200 ft (60m) depth rating
Controls for all camera functions except Aspect Ratio Selector switch, Flash Open switch, ND/FOCUS lever
Near neutral buoyancy in fresh water
12-24 thread tray mounting with 3" (76mm) spacing
2.8 lb (1.3 kg)
6.8 x 5 x 5.9" (17 x 13 x 15 cm)
3.0" diameter glass lens port
2 year limited warranty
In the Box
Housing
O-ring # 0110
Port cover # 0200
Waterproof bulkhead cap # 9104.5
Flash diffuser
Flash deflector
Documentation