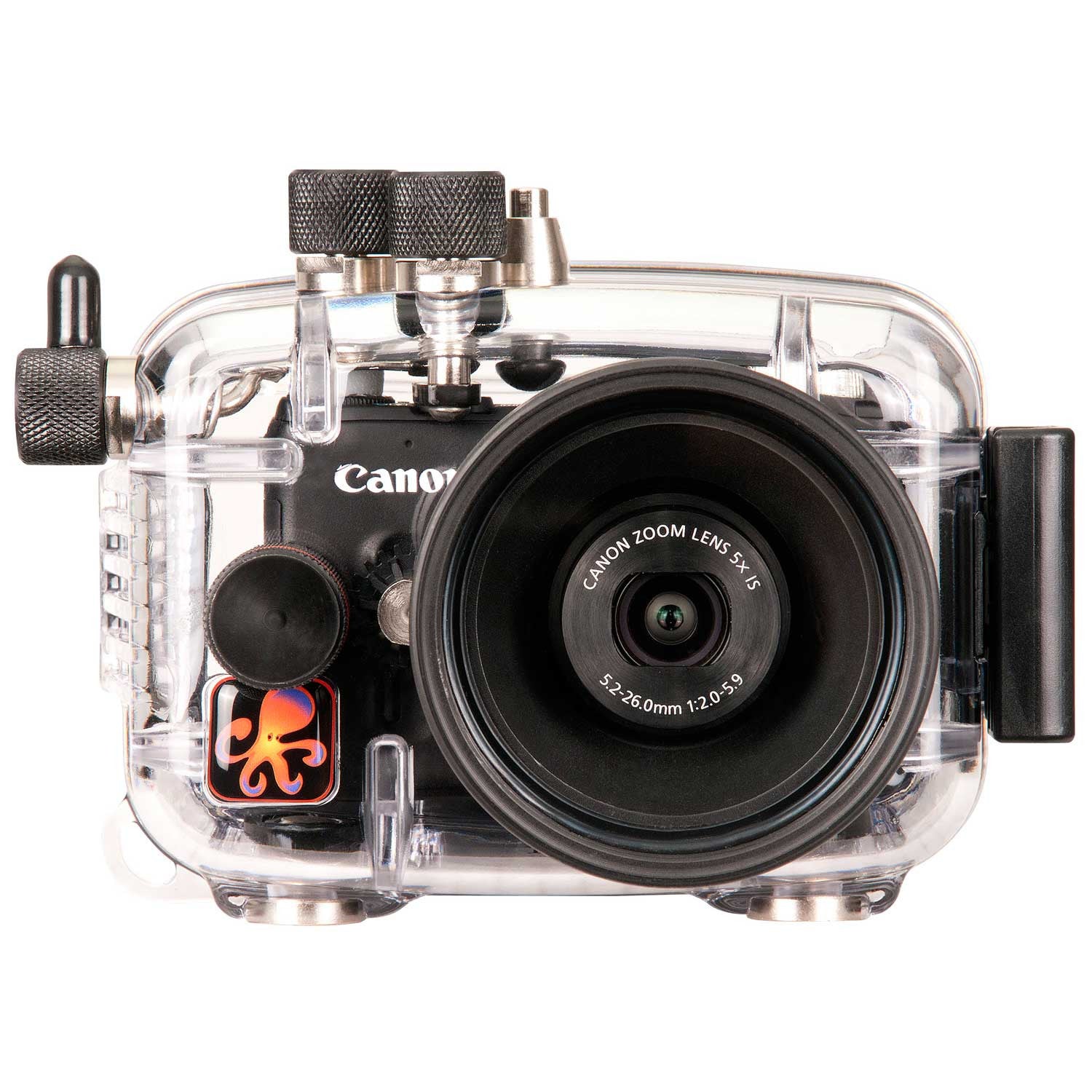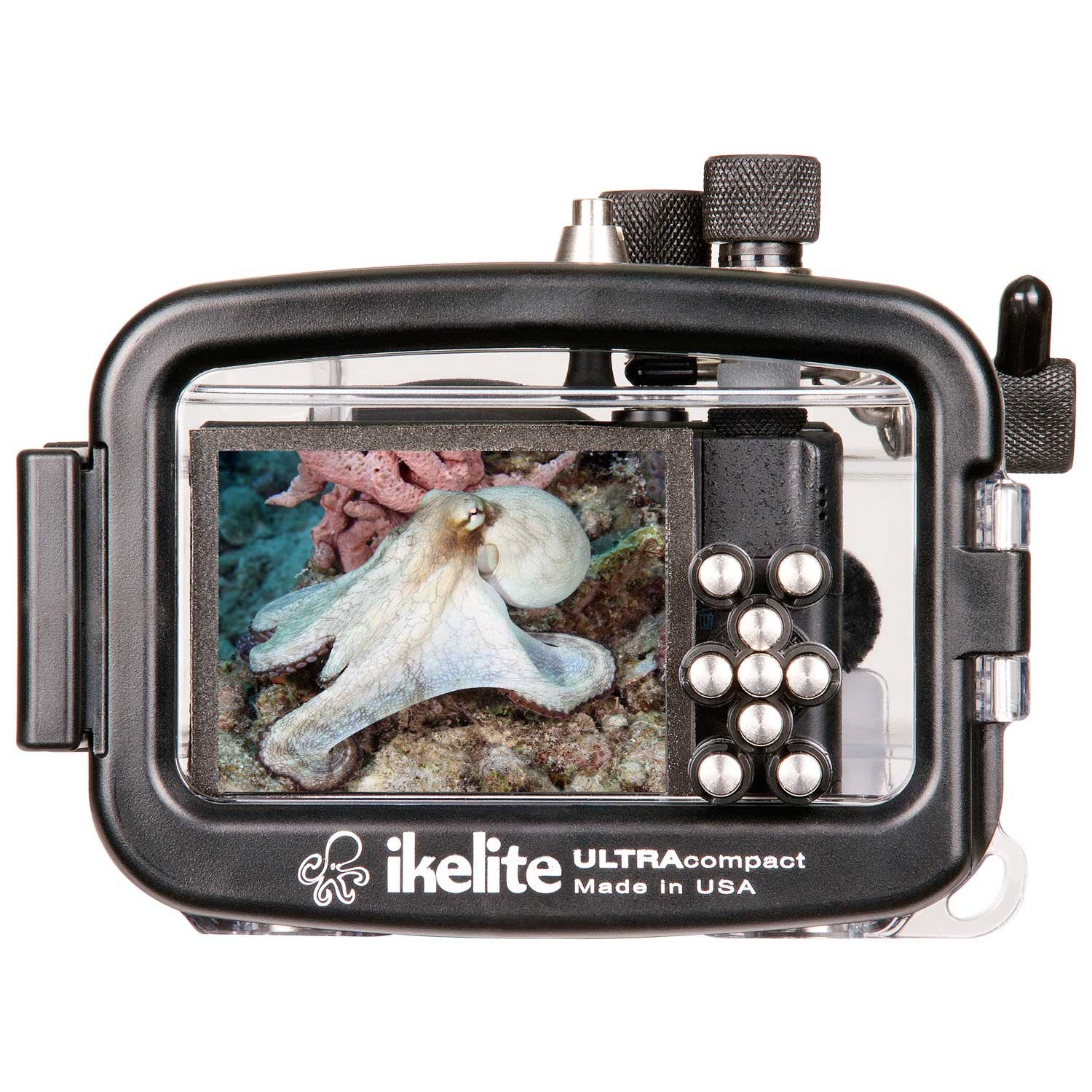 SKU: 6242.11
Underwater Housing for Canon PowerShot S110
---
This housing is out of stock and permanently out of production. We have no remaining new, blemished, or used inventory. We continue to provide service of this product even though it has been discontinued.
A full featured and durable waterproof housing for Canon PowerShot S110 IS cameras. Suitable for scuba, snorkel, surf, pool, and any application in or around the water.
Dive into underwater photography with this compact and easy to use system. Durable clear polycarbonate construction provides a unique view of the camera to ensure correct waterproof installation and confidence underwater. The camera installs with drop-in loading for quick and easy set up. Simply close the side latch and see the o-ring form a solid black, watertight seal. Large, ergonomic controls provide access to all important camera functions.
An included flash diffuser improves lighting quality when the camera's built-in flash is used. A built-in flash is effective between 1-3 feet (0.3-0.9m) from the subject in clear conditions. For best results a color correcting filter or external lighting is recommended. External lighting is more powerful than the camera's flash and can be placed in a position to virtually eliminate the backscatter - or "snow" - from your underwater images.
Ikelite products are designed, built and tested in the USA. We use locally sourced, top-grade materials. Our housings are built by hand and individually tested for fit, function and waterproof integrity. We back our products with over 50 years of experience and service within the dive industry.
Wide Angle, Macro + Filters
Our 3" diameter ports feature a 67mm thread on the front for the easy attachment of external wide angle and macro wet lenses. Wide angle lenses make objects appear smaller, so that you can fit more into your frame underwater. Macro close-up lenses make small objects appear larger, so that tiny creatures will fill your frame.
The WD-3 Wide Angle Dome provides mid-range angle of view with no vignetting (dark shadows in the corners of the image).
The W-30 Wide Angle Lens, INON UWL-H100, and other 67mm threaded wide angle lenses, provide a wider maximum angle of view. Because these are separated from the camera's lens by glass, air, and water, some vignetting and edge distortion will be present. These effects can be reduced or eliminated by using a smaller aperture, zooming in slightly, and/or cropping in post-production.
External macro lenses with 67mm threads from INON, Epoque, and other manufacturers, can be attached directly to the front of the housing's port.
3" diameter color filters press directly onto these ports. Most wide angle lenses require a 3.6-inch diameter color filter. Refer to the product page for information on color filter compatibility.
Compatibility
This housing is only compatible with the Canon PowerShot S110 camera. Lens and control placement differences on other S-series cameras prevent them from being able to be used in this housing.
Specifications
200 ft (60m) depth rating
Controls for all camera functions except rear Control Dial
Near neutral buoyancy in fresh water
12-24 thread tray mounting with 3" (76mm) spacing
1.4 lb (635 g)
6.1 x 4.5 x 4.4 in (15.5 x 11.4 x 11.2 cm)
3.0" diameter glass lens port with 67mm thread
2 year limited warranty
In the Box
Housing
O-ring # 0132.45
Gear ring # 9299.04
Port cover # 0200
Flash diffuser
Flash deflector
Lanyard # 0321.10
Silicone lubricant 1cc tube
Documentation