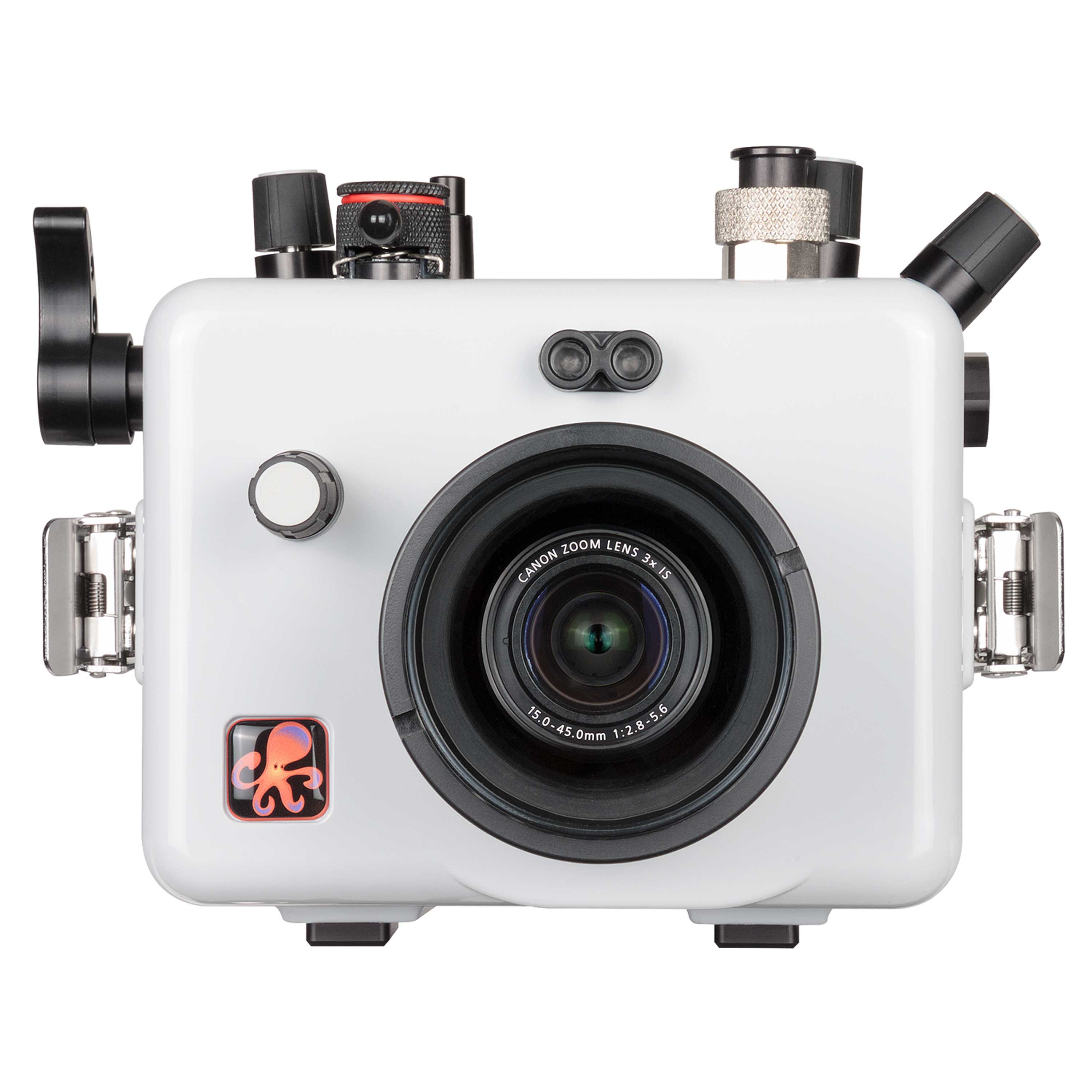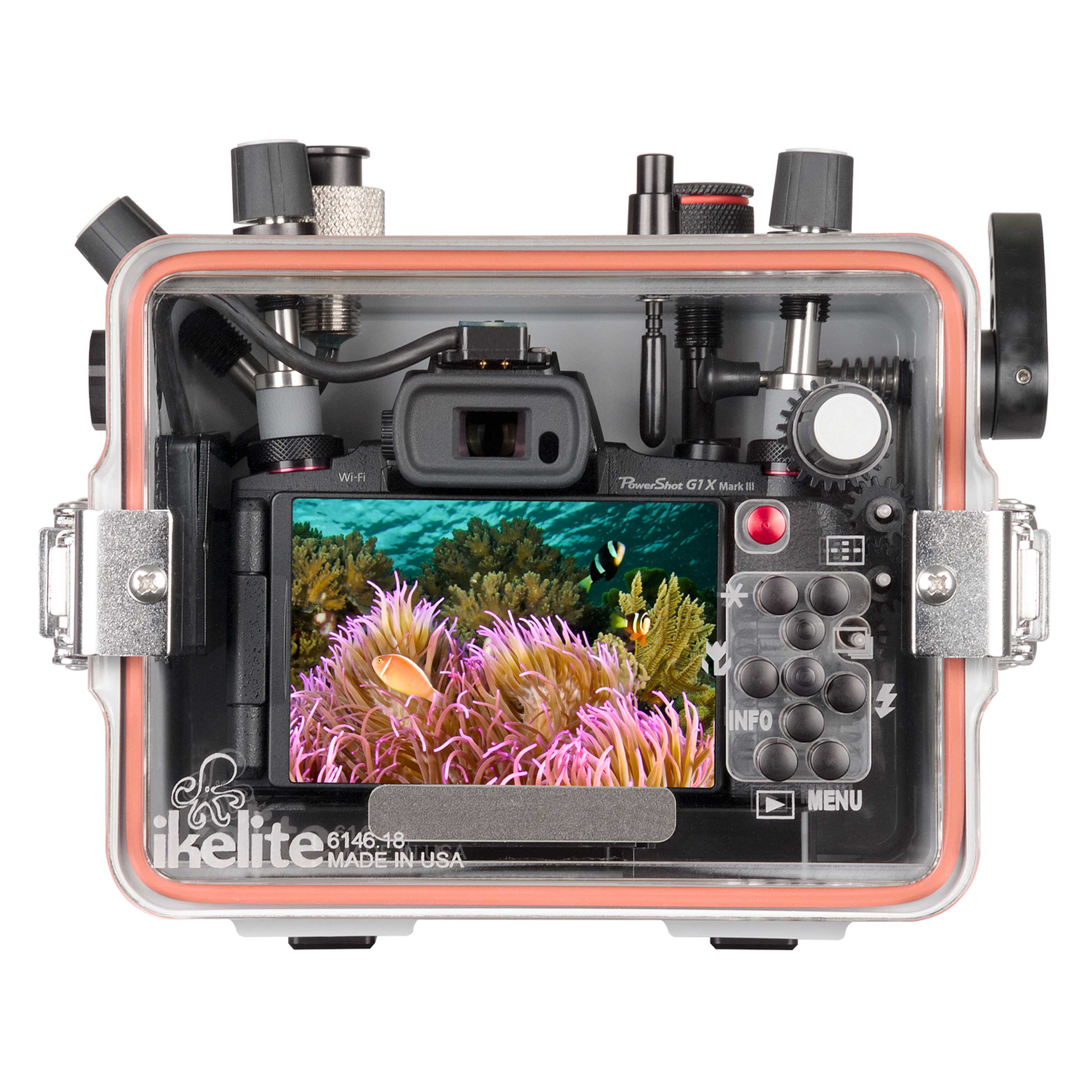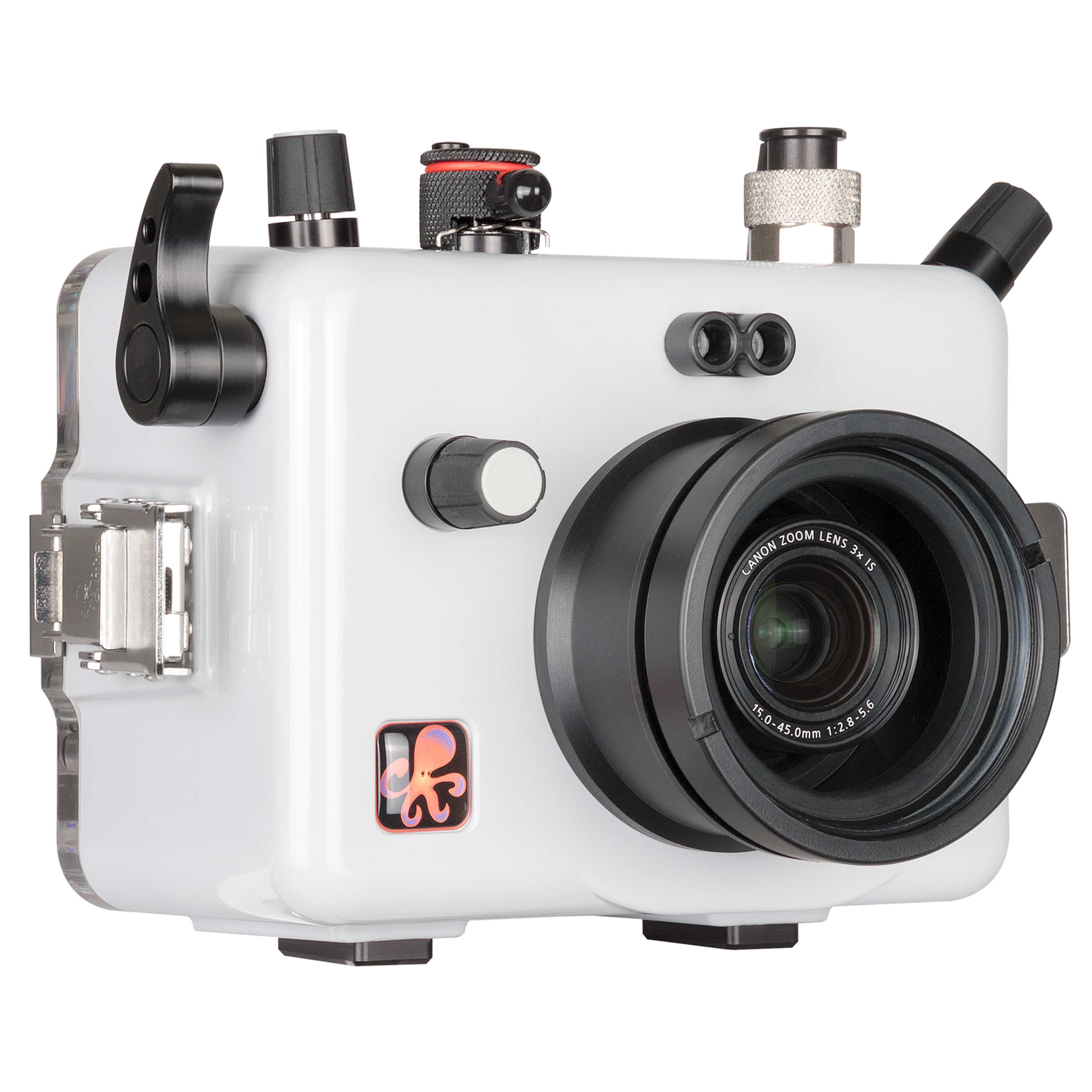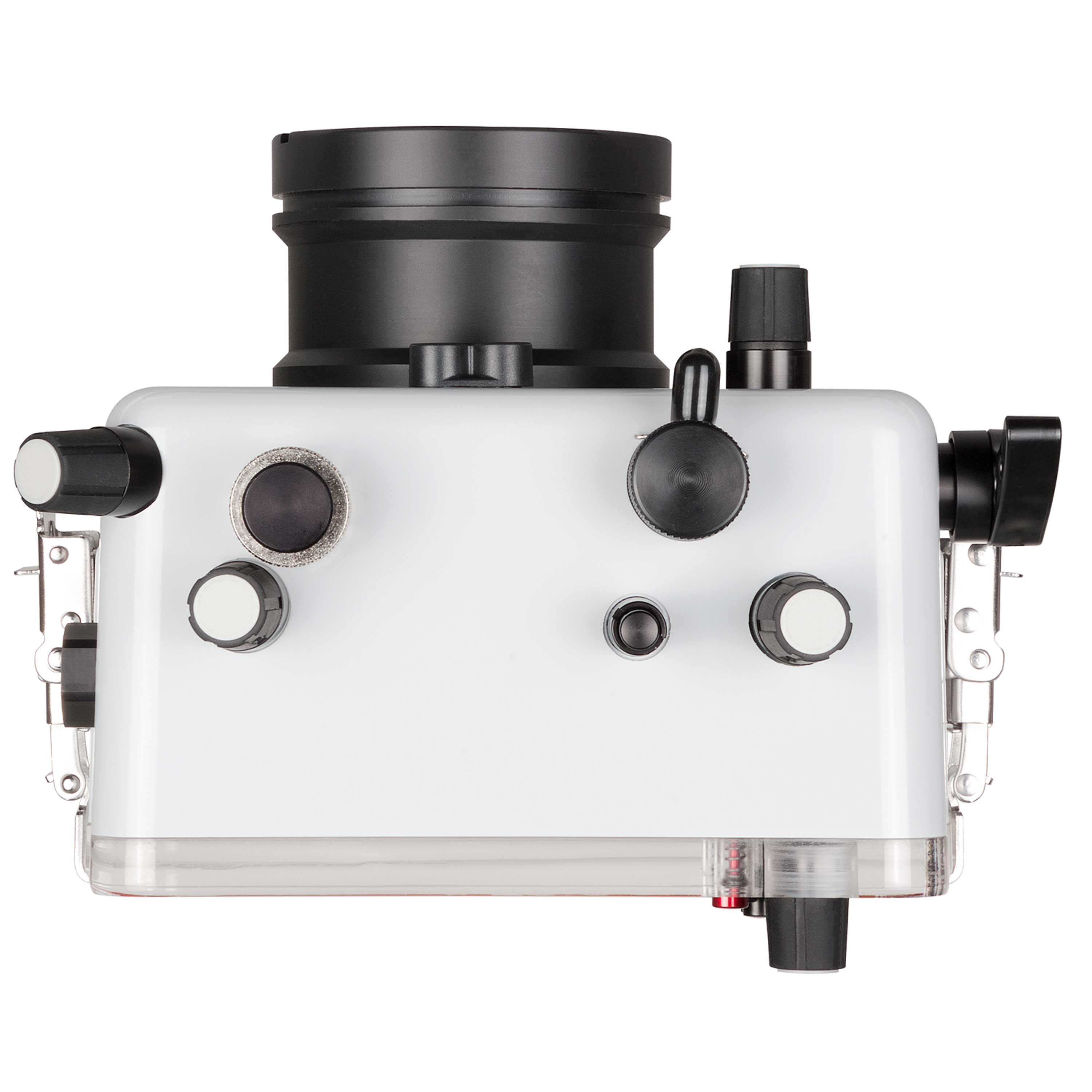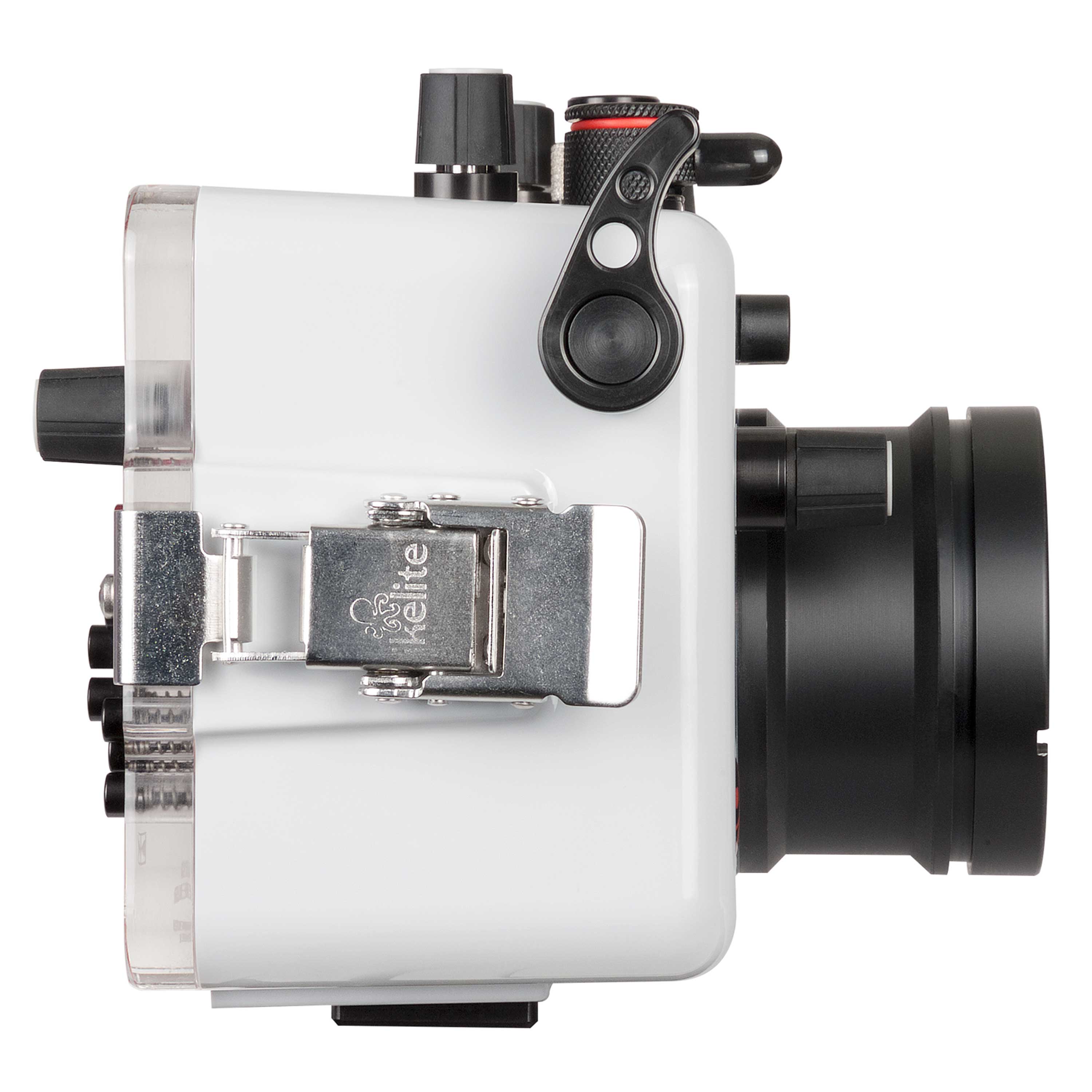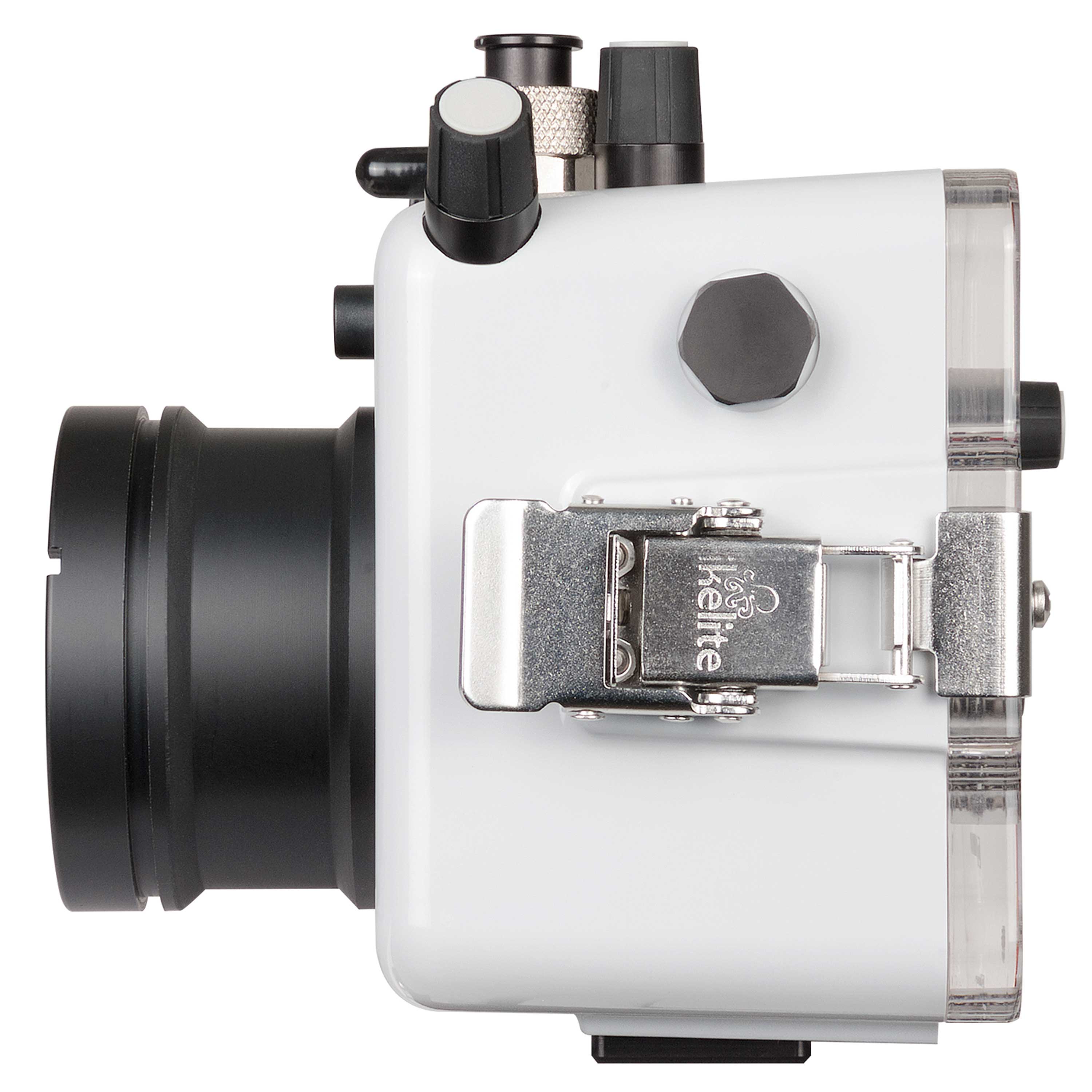 SKU: 6146.18
Underwater Housing for Canon PowerShot G1 X Mark III
---
This housing is out of stock and permanently out of production. We have no remaining new, blemished, or used inventory. We continue to provide service of this product even though it has been discontinued.
The Canon G1X series gets a facelift with the smaller and lighter G1 X Mark III. The Mark III features a large 24MP APS-C sensor and 24-72mm f/2.8-5.6 lens. The fast and accurate Dual Pixel autofocus system is the same one used on current model Canon DSLRs. The camera features 1080/60p video resolution and a 'Dual Sensing' image stabilization system. 
True Canon TTL
An integrated TTL circuit is fine-tuned to Canon's latest flash exposure protocol for the most accurate exposure possible with the Canon PowerShot G1 X Mark III camera. The circuit is powered by the strobe for zero maintenance and no batteries to change. Exposure compensation in TTL mode is supported using the camera's built-in control.
A fast and reliable strobe connection is essential to getting the shot underwater. This housing provides a direct electrical connection to the camera's external flash hot shoe. Cord attachment is as easy as screwing in a lightbulb, and the threaded fit prevents accidental detachment during use. The bulkhead connection has been moved to the top of the housing to keep cords out of your way and reduce strain on the cord ends. A variety of sync cord terminations are available for Ikelite, SEA&SEA, INON, or Nikonos strobes for ultimate versatility.
At this time, only Ikelite DS strobes are capable of powering and communicating with the TTL circuit. SEA&SEA, INON, and Nikonos strobes will still enjoy fast recycle times and improved battery life, but must be used in manual exposure modes only.
Two fiber optic ports are built into the front of the housing provide an attachment point for fiber optic cords from most major manufacturers. The camera's built-in flash is suitable for firing an external strobe, but not for lighting a photo underwater. Use of a fiber optic connector requires the camera's built-in flash to fire, bypassing the TTL functionality of the housing.
Great Handling
Controls are provided for all important camera features. A new curved shutter lever feels natural and responsive. Knob controls are upgraded to our new soft-touch design which gives you extra grip and feels good whether you're diving with gloves or bare hands. Our push buttons have been redesigned to reduce weight and salt build-up. The back of the housing features laser engraved control symbols which will never fade or fall off.
Control placement mimics the way you use the camera on the surface to take advantage of muscle memory and avoid the need to re-learn your camera's controls.
The camera mount is front-loading for easy installation and removal. A small mounting plate attaches to the bottom of the camera and secures in the front of the housing. The mounting plate features a 1/4-20 threaded mount on the bottom so that it can be attached to a tripod on the surface.
There are two 1/4-20 mounts on the bottom of the housing for secure, rotation-free mounting of an optional tray and handles.
Wide Angle + Macro
The 3" diameter glass lens port features a 67mm thread on the front for the easy attachment of external wide angle and macro wet lenses. Wide angle lenses make objects appear smaller, so that you can fit more into your frame underwater. Macro close-up lenses make small objects appear larger, so that tiny creatures will fill your frame.
The WD-3 Wide Angle Dome provides mid-range angle of view with no vignetting (dark shadows in the corners of the image).
The W-30 Wide Angle Lens, INON UWL-H100, and other 67mm threaded wide angle lenses, provide a wider maximum angle of view. Because these are separated from the camera's lens by glass, air, and water, some vignetting (dark shadows in the corners of the image) and edge distortion will be present. These effects can be reduced or eliminated by using a smaller aperture, zooming in slightly, and/or cropping in post-production. The INON UWL-H100 Type I lens exhibits the least vignetting of the lenses we have tested.
External macro lenses with 67mm threads from INON, Epoque, Nauticam, and other manufacturers, can be attached directly to the front of the housing's port.
Our 3" diameter color filters press directly onto these ports. Filters are available for tropical blue water, green water, and fluorescence photography. Most wide angle lenses require a 3.6" diameter color filter. Refer to the product page for information on color filter compatibility.
Vacuum System
The optional Vacuum Kit # 47012 may be installed in place of the spare accessory port on the side of the housing. A vacuum system allows you to pressurize the housing to check for leaks prior to putting your expensive equipment in the water. Combined with a full view of the camera and o-ring seal through the back of the housing, there is no greater assurance that your gear will be safe.
Construction
Our new white ABS-PC blend front is stronger than its clear counterpart, provides improved contrast and visibility, and keeps your camera running cooler in the sun. This material is 1/3 of the specific gravity of aluminum, making the housing much lighter and fundamentally corrosion free.
The unique rear seal design prevents accidental twisting or stretching of the o-ring for simple and confident assembly. We have eliminated the need for an o-ring groove or channel which can trap sand, dirt, or debris. Two double-passivated stainless steel locking lid snaps are simple to use and virtually unbreakable. The clear back allows you to see the o-ring form a solid, watertight seal as it closes.
We are proud to offer the only housing and lighting system for the Canon PowerShot G1 X Mark III that is 100% designed, built, and tested in the USA. Our housings are handmade and individually inspected for fit, function and waterproof integrity. The average assembly technician is a certified scuba diver and has over 16 years of experience building Ikelite products. We back our products with over 50 years of experience and the most accessible and responsive customer service staff in the dive industry.
In the Box
Housing
O-ring # 0110
Vinyl port cover # 0200
Waterproof bulkhead cap # 9104.7
Specifications
200' / 60 m depth rating
All important camera functions are accessible
Controls are not provided for the Wi-Fi button or Diopter adjustment control
Ikelite bulkhead connector with built-in TTL circuitry
1/4-20 thread tray mounting with 3" (76 mm) spacing
3.0" diameter glass lens port with 67mm threaded front
Slightly negative buoyancy in fresh water
2.9 lb (1315 g)
6 x 5.7 x 7.3" (152 x 145 x 185 mm)
2 year limited warranty
Documentation