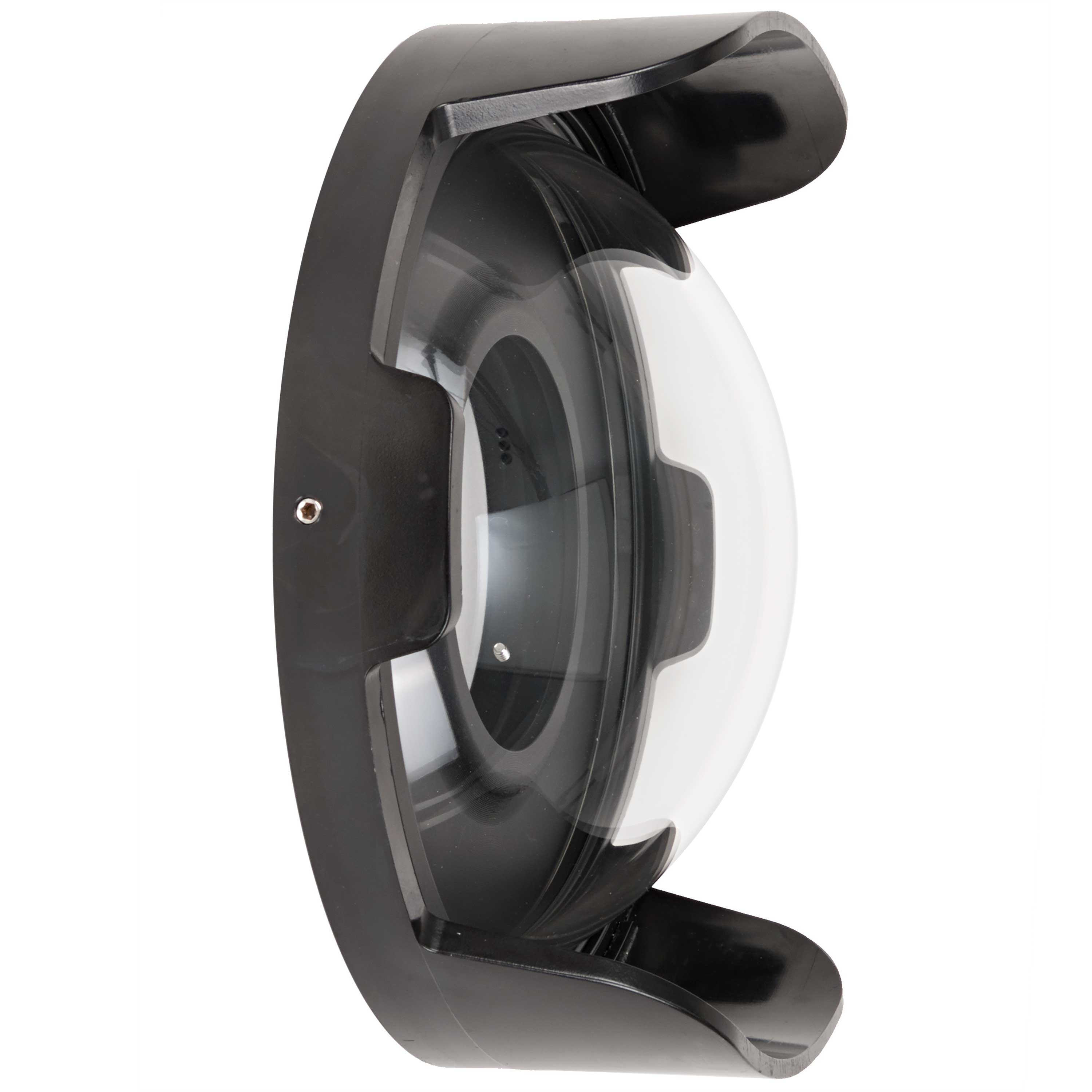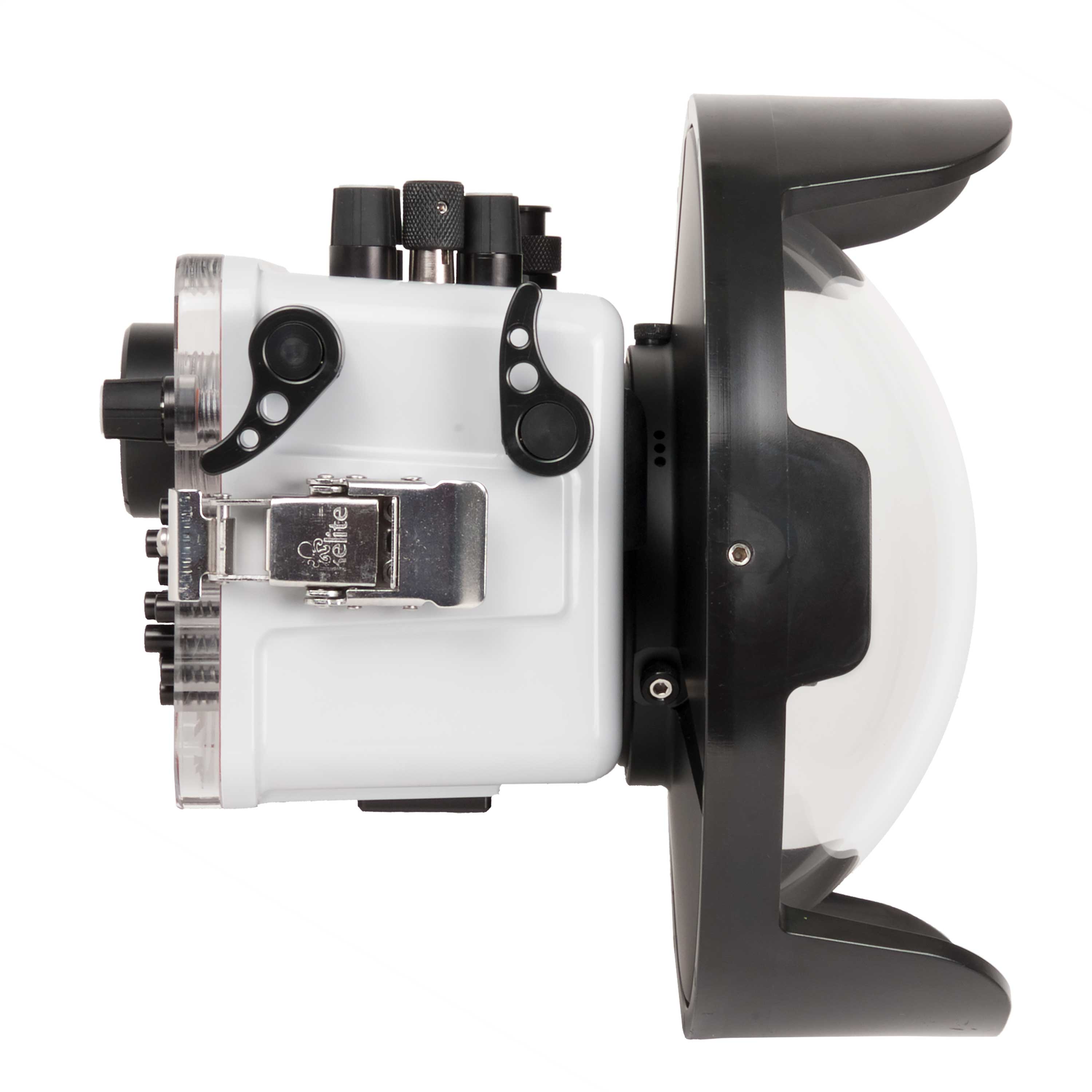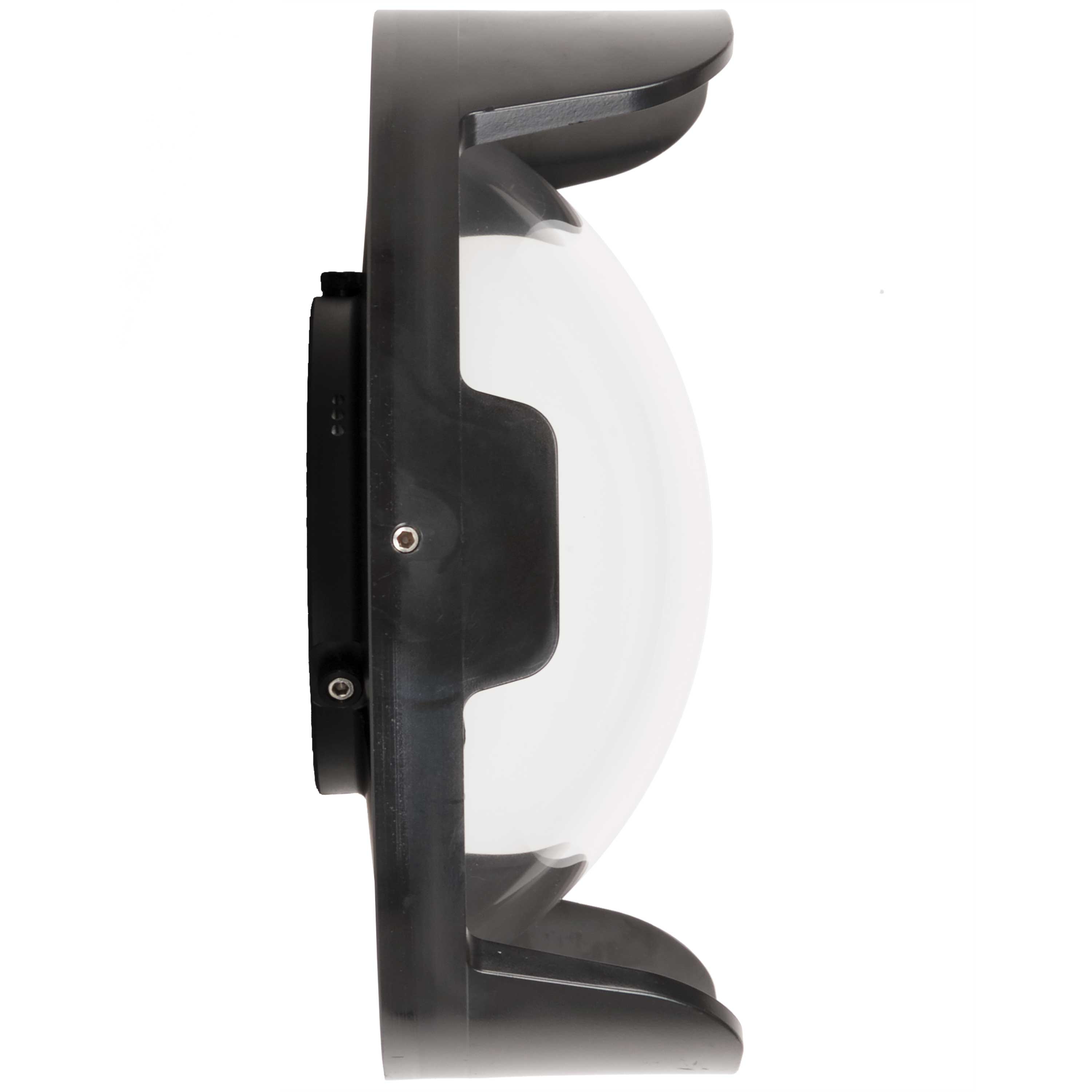 SKU: 5516.81
DLM 8 inch Dome Port
---
This product has been discontinued and replaced with the newer DLM 8" Dome Port # 5516.82.
Comparable image quality to glass yet several pounds lighter and easier to handle, especially at the surface of the water.
A new acetyl base allows the dome port to attach directly to a compatible housing with DLM port system and weighs only slightly more than our smaller diameter 6" dome ports.
Image Quality
The injection molded acrylic 8" diameter dome is specifically designed for underwater photography to provide superior optical performance. This dome provides image quality virtually indistinguishable from glass yet several pounds lighter and easier to handle, especially at the surface of the water.
Compared to smaller 4" and 6" diameter domes, the larger dome reduces edge distortion on pictures taken with certain super-wide angle lenses and makes shooting over-under shots (half-in, half-out of the water) easier.
Domes are ideal underwater for shooting wide angle and zoom lenses. If you're shooting a macro lens, we recommend using the a flat port instead.
Compatibility
For use with compatible housings featuring DLM/A, DLM/B, and DLM/C port systems. Refer to the appropriate lens port for your housing to determine compatibility. This dome port cannot be used with DL or FL port systems.
Fiber optic port placement on some housings prevent the dome from attaching to the front of the housing without an extension in between when using fiber optic cords. These housings include: 
Sony Alpha a6000 TTL # 6910.60 / 6910.61
Sony Alpha a6300 TTL # 6910.63
Sony Alpha a6500 TTL # 6910.65
Sony Alpha a6100, a6300, a6400, a6500 # 6911.64
Panasonic Lumix GX80, GX85, GX7 II # 6961.85
Panasonic Lumix GX7 # 6970.07
Canon EOS M3 # 6973.03
Canon EOS M6 # 6973.06
Canon EOS M6 II # 6973.07
Canon EOS M10 # 6973.10
The DLM 8" Dome Port V2 # 5516.82 is recommended for the above housings. This newer dome port allows the dome to attach directly to the housing while fiber optic cord(s) are installed.
Color Filters
External filters are not compatible with dome ports. Look for filters that attach to your lens prior to installation. We recommend Magic Filters (not sold by Ikelite).
Specifications
Acrylic dome with acetal base
Weighs 2.2 lb (998 g)
In the Box
Dome port
Dome shade # 5510.04 (installed)
Securing thumbscrews (set of 3) # 9249.6 (installed)
Neoprene front cover # 0200.82 (installed)
Neoprene rear cover # 0200.83 (installed)
Silicone lubricant 1cc tube
Documentation