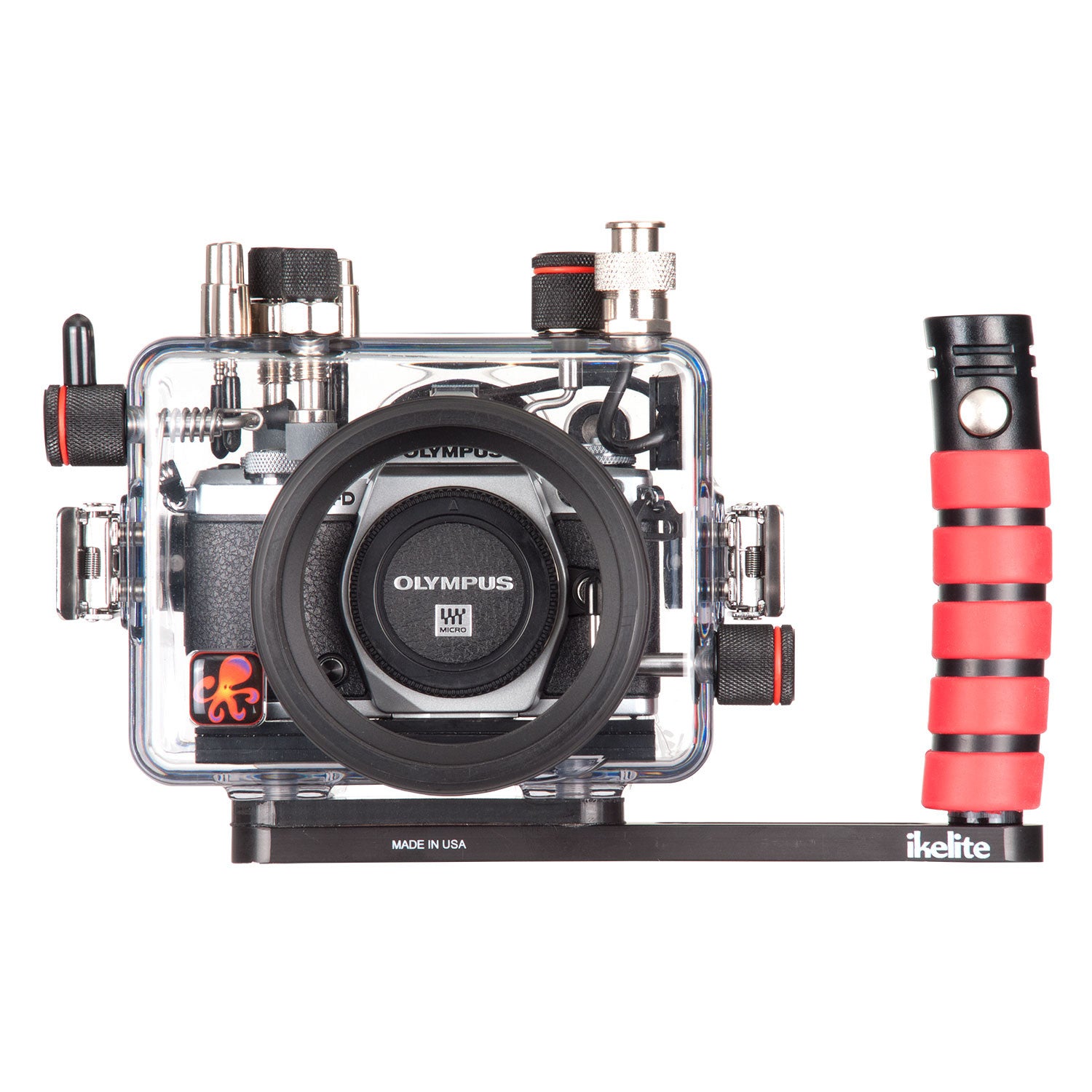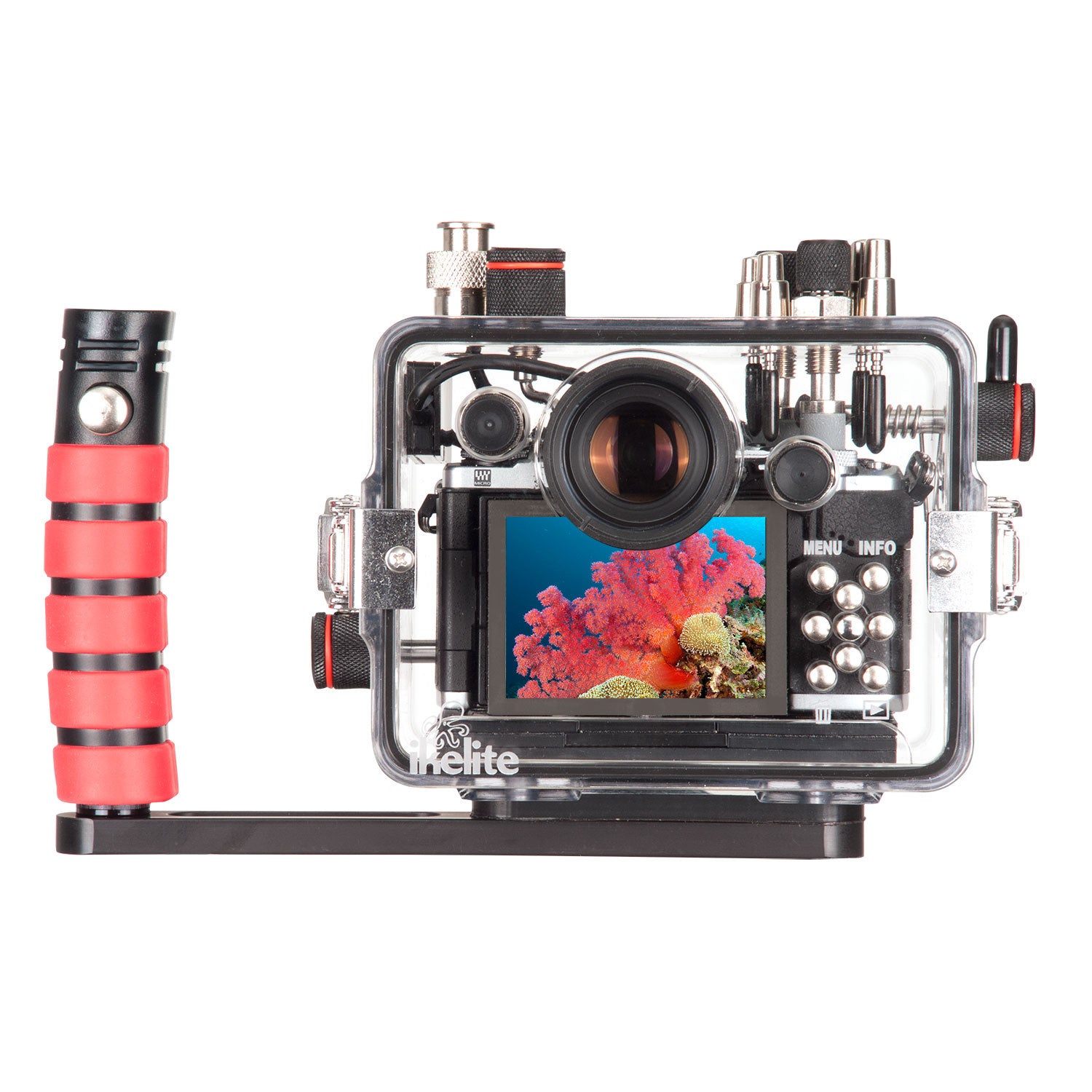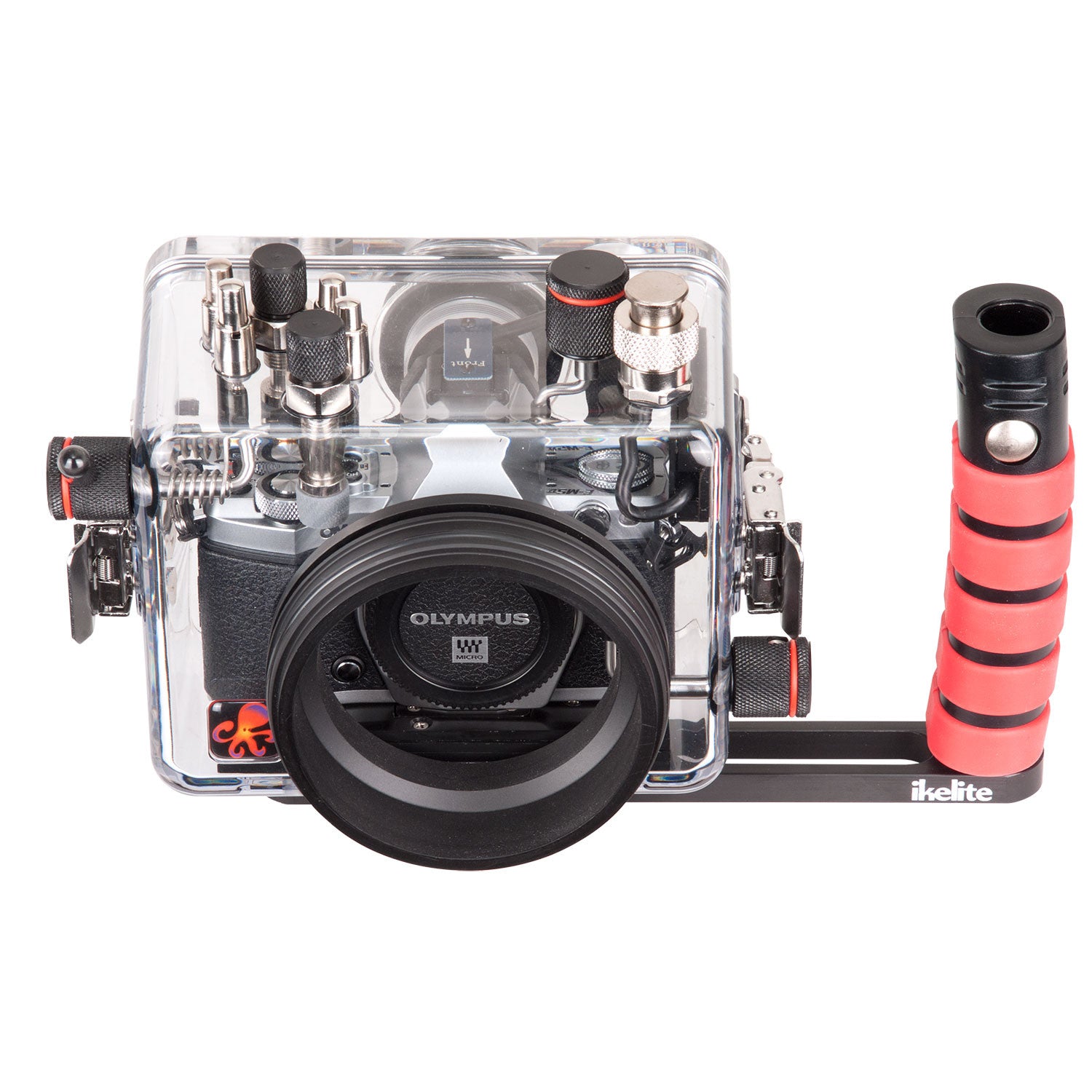 SKU: 6950.52
200DLM/A Underwater TTL Housing for Olympus OM-D E-M5 Mark II Mirrorless Micro Four-Thirds Camera
---
This housing is out of stock and permanently out of production. We have no remaining new, blemished, or used inventory. We continue to provide service of this product even though it has been discontinued.
A full featured and durable waterproof housing for Olympus OM-D E-M5 Mark II mirrorless micro four-thirds cameras. Suitable for scuba, snorkel, surf, pool, and any application in or around the water.
This housing requires the addition of a compatible DLM Lens Port for waterproof operation. Lens Port not included.
The True TTL Advantage
Other housings simply waterproof your camera. An Ikelite TTL housing improves your photos. TTL or "Through-The-Lens" flash metering means the camera controls flash duration to properly expose an image. Our built-in proprietary circuitry tells your camera that a TTL external flash is attached, allowing the camera to adjust exposure more accurately than with slave TTL strobes.
Fiber optic slave flash units require the camera's flash to fire every time. This creates a shutter lag as you wait for the camera's flash to recycle in between shots, drains your camera's battery life, and builds up heat inside of the housing. Ikelite electronics translate direct electrical impulses from your camera, triggering your strobe and precisely adjusting its power without the need to fire the camera's flash. This eliminates the slave TTL strobe issues of signal interference, inconsistent exposure due to weak fiber optic transmission and false triggering caused by light rays bouncing off the water's surface or your buddy's flash going off.
The camera's external flash is not usable in this installation. Non-Ikelite strobes may be attached with the appropriate sync cord and operate non-TTL (manual exposure modes only) with this housing.
The Lens Support You Want
It couldn't be more simple to change ports than this system—just press the port on and tighten three thumb screws. Feel positive reinforcement that the port is secure with simple parts you can trust in a remote location.
This housing accepts a variety of ports to accommodate all of the most popular zoom, macro, and wide angle lenses. Our custom optical grade acrylic domes components provide the color, clarity, and durability of glass at a fraction of the travel weight and cost.
Lens port sold separately.
Viewing
The camera's large, super-bright LCD screen is viewable edge-to-edge through the back of the housing. A built-in magnifying viewfinder includes specially optics to provides a clear view of the camera's EVF when wearing a dive mask.
Ergonomics
Controls are put right at your fingertips for all important camera functions. Control symbols laser engraved into the back of the housing will never peel off or fade even with years of use.
With a system of this caliber, a tray with handle is essential for the attachment of lighting and comfortable handling in a wide variety of shooting scenarios. This housing includes a balanced aluminum tray with our signature quick release handle for easy attachment and removal of strobes and video lights. This unique handle is curved slightly to fit the nature curvature of your hand, and features a soft over-mold which makes it a delight to hold. The complete tray and handle detaches with the removal of two nuts for packing or to attach the optional Tray with Dual Handles.
Construction
Special polycarbonate blends allow us to create an extremely strong yet clear and lightweight enclosure. We believe there's no substitute for inspecting the actual o-ring seal once your housing is closed. Our signature clear construction lets you see that the housing is watertight and dry before you enter the water, and provides full view of the camera while you're diving. Unlike aluminum, polycarbonate is fundamentally corrosion-resistant for easy maintenance year after year.
Like every Ikelite product, our housings are designed, built, and tested in the USA. We use locally sourced, top-grade materials. Our housings are built by hand and individually tested for fit, function and waterproof integrity. The average assembly technician is a certified scuba diver and has over 16 years of experience building Ikelite products. We back our products with over 50 years of experience and the most accessible and responsive customer service staff in the dive industry.
This housing requires the addition of a compatible lens port for waterproof operation. Lens port not included.
Compatibility
Differences in lens and control placement prevent the original Olympus O-MD E-M5 (Mark I) camera from being used in this housing.
Specifications
200 ft (60m) depth rating
Compatible with DLM system lens ports
Controls for all important camera functions
Controls are not provided for rear touch screen, Fn1 button, Mode dial lock, Diopter adjustment dial, or External flash connector
Ikelite flash bulkhead connector with built-in TTL circuitry
Two 3/8-16 threaded tray mounts with 3-inch (76mm) spacing
Ikelite bulkhead connector with built-in TTL circuitry
Slightly negative buoyancy in fresh water
Actual buoyancy varies depending on choice of lens and port
3.28 lb (1486 g)
6.5 x 7 x 5.3" (165 x 177 x 135 mm)
ABS-PC, acrylic, and acetyl construction
2 year limited warranty
In the Box
Housing
Rear o-ring # 0110 (installed)
Front o-ring # 0132.36 (installed)
Tray with left-hand quick release handle # 9523.63
Waterproof bulkhead cap # 9104.7
Silicone lubricant 1cc tube
Documentation