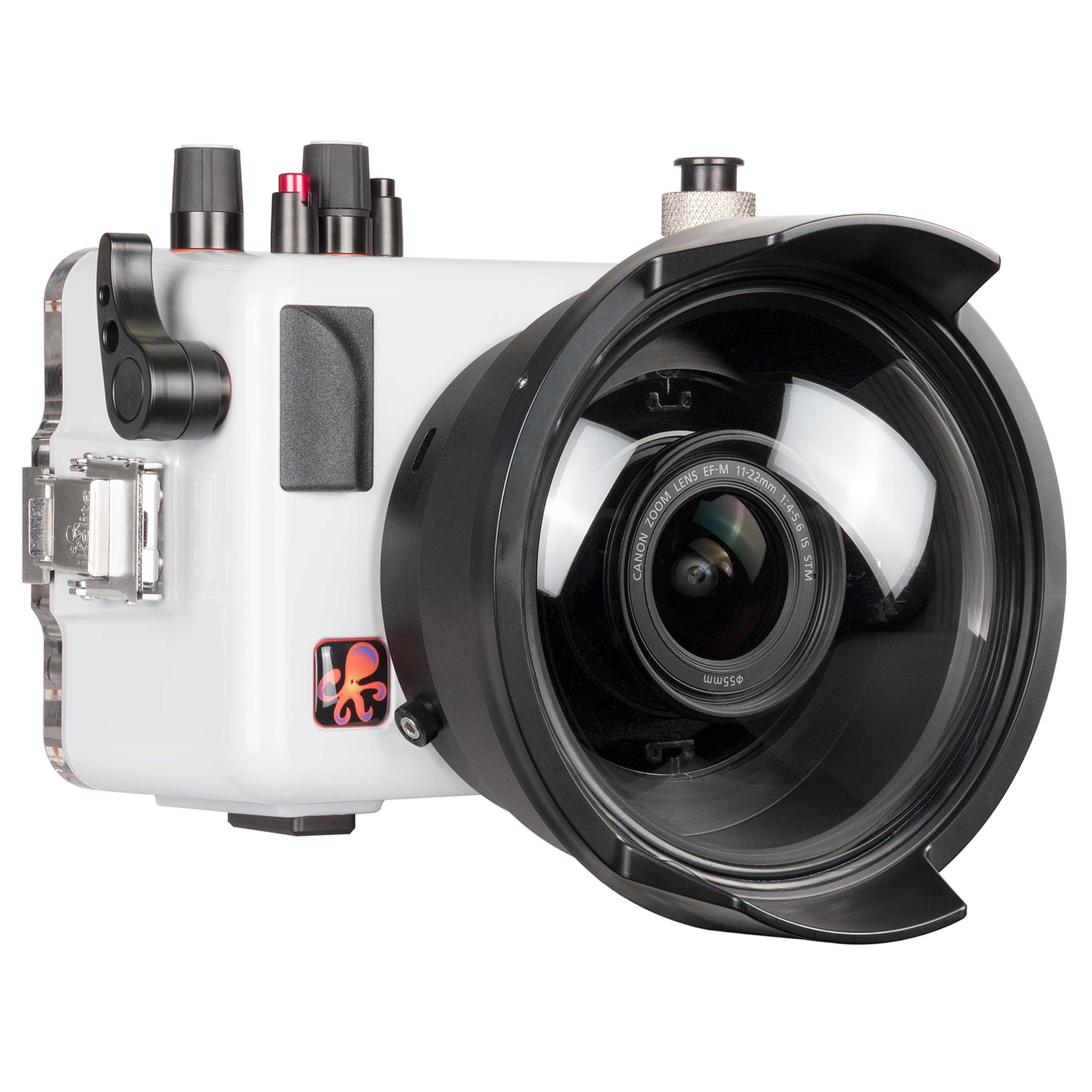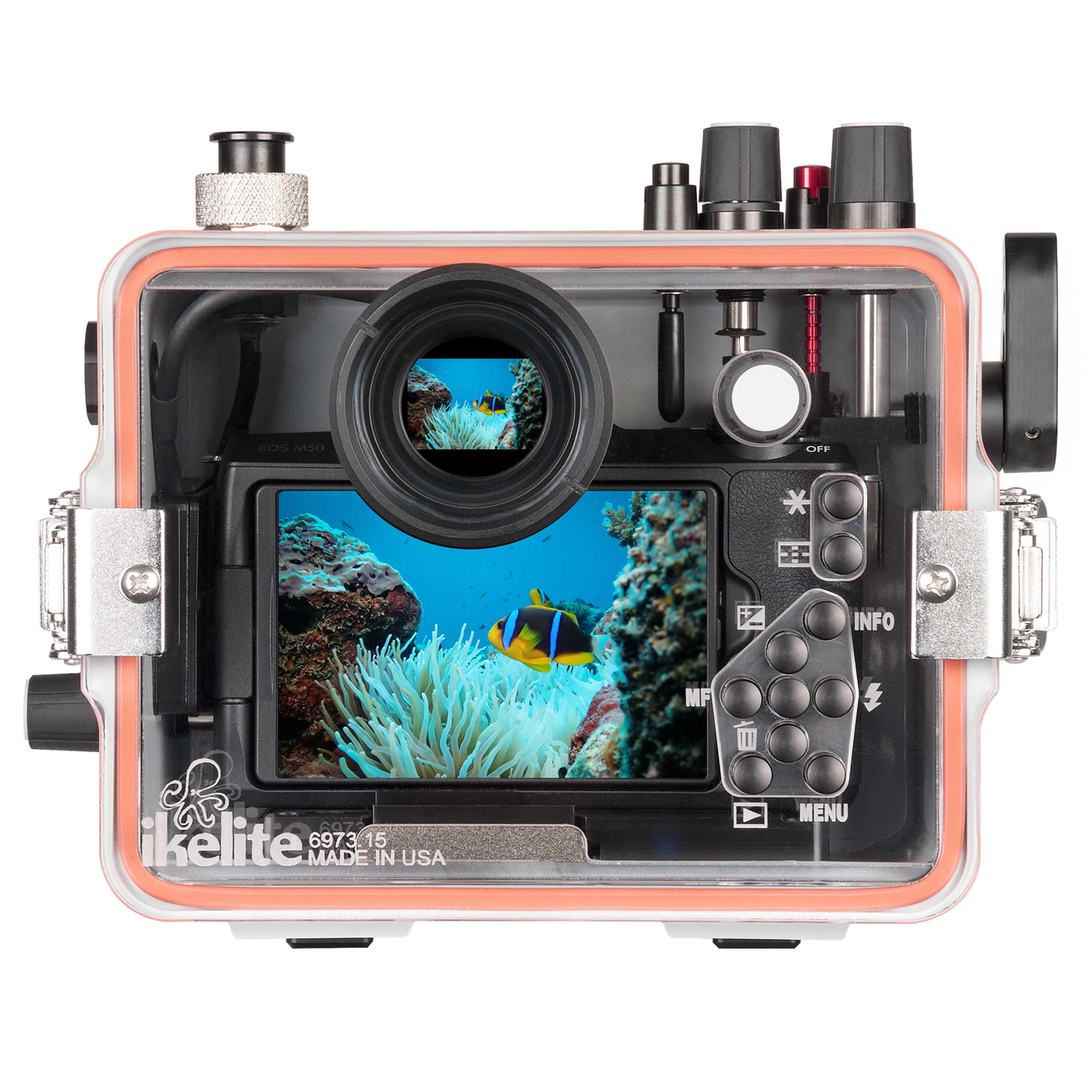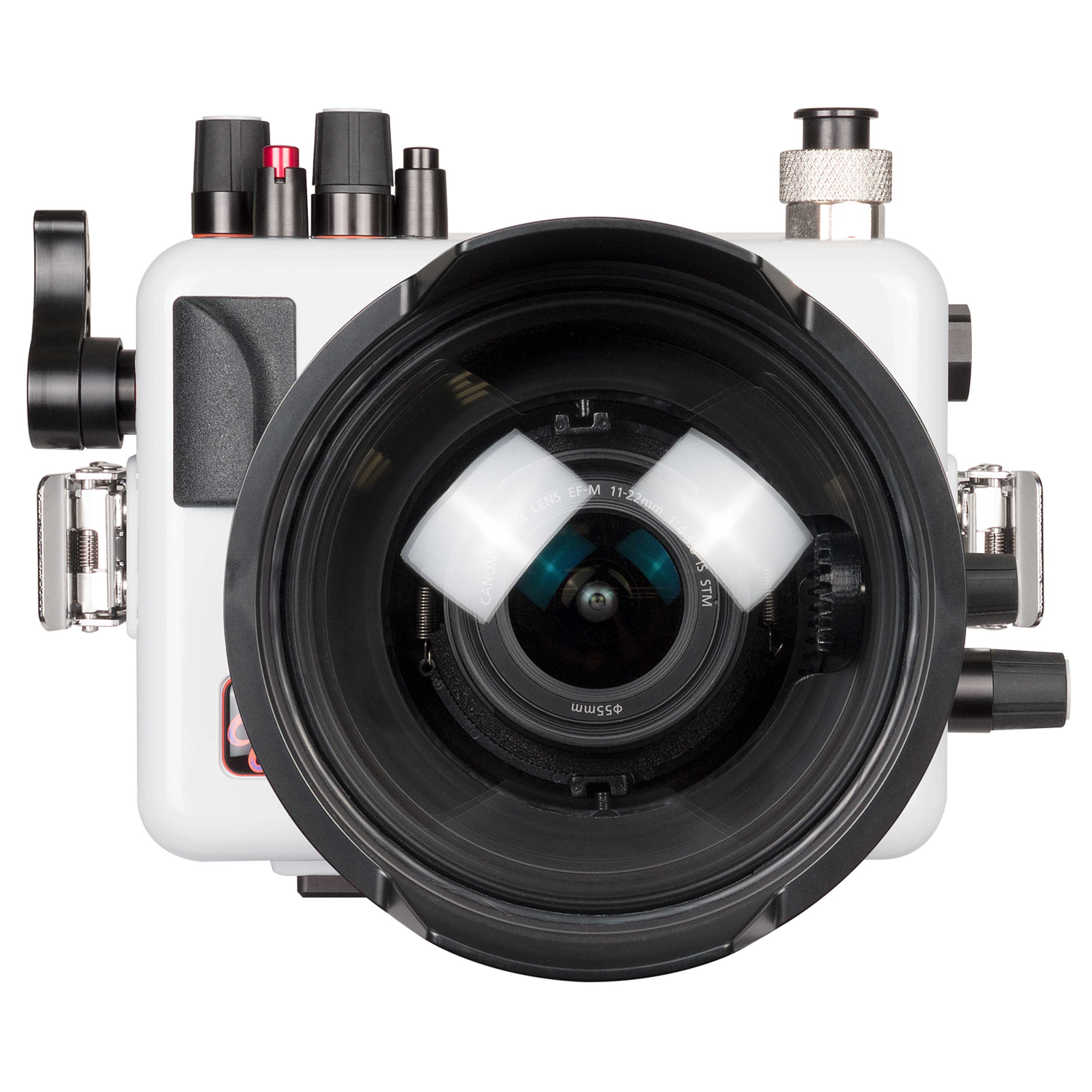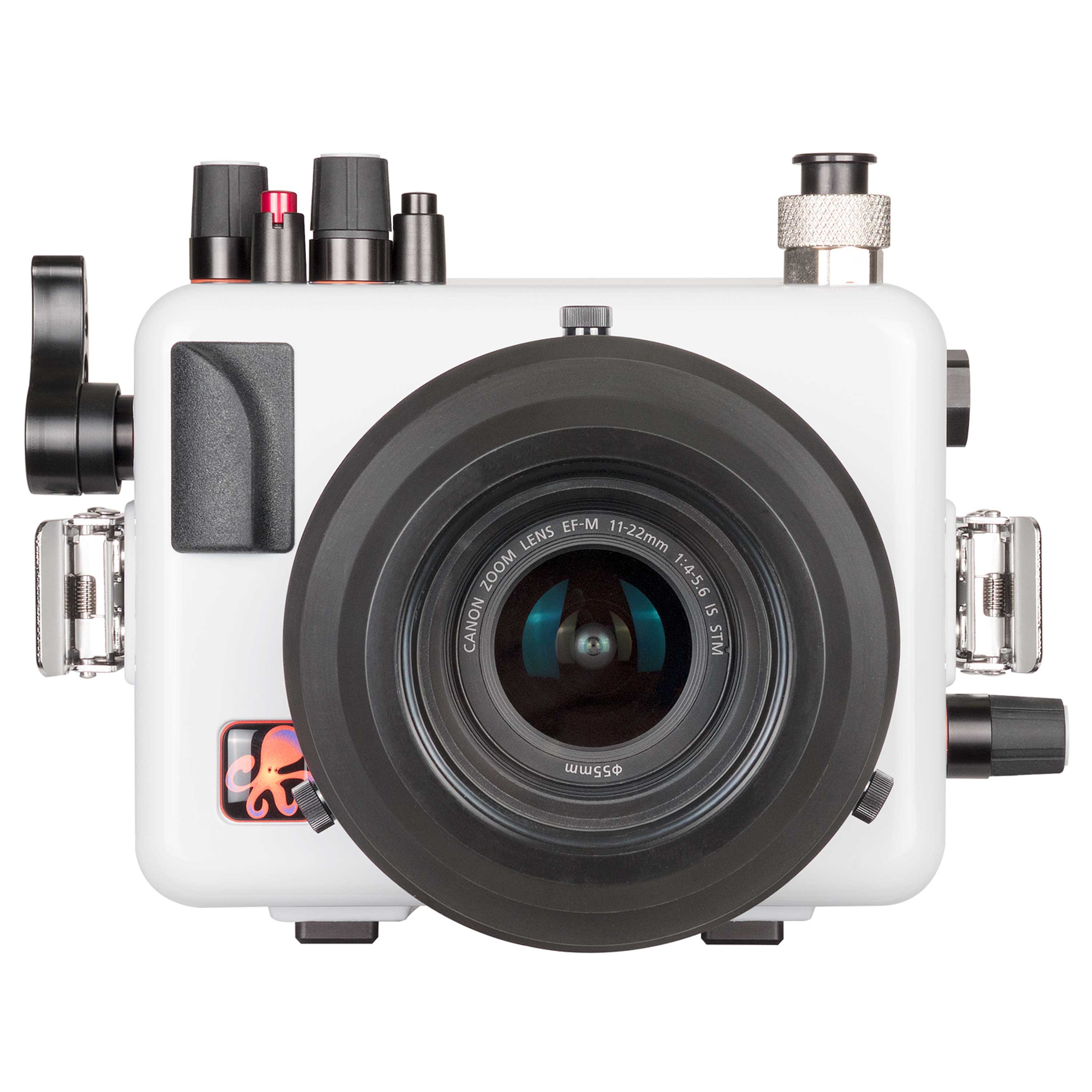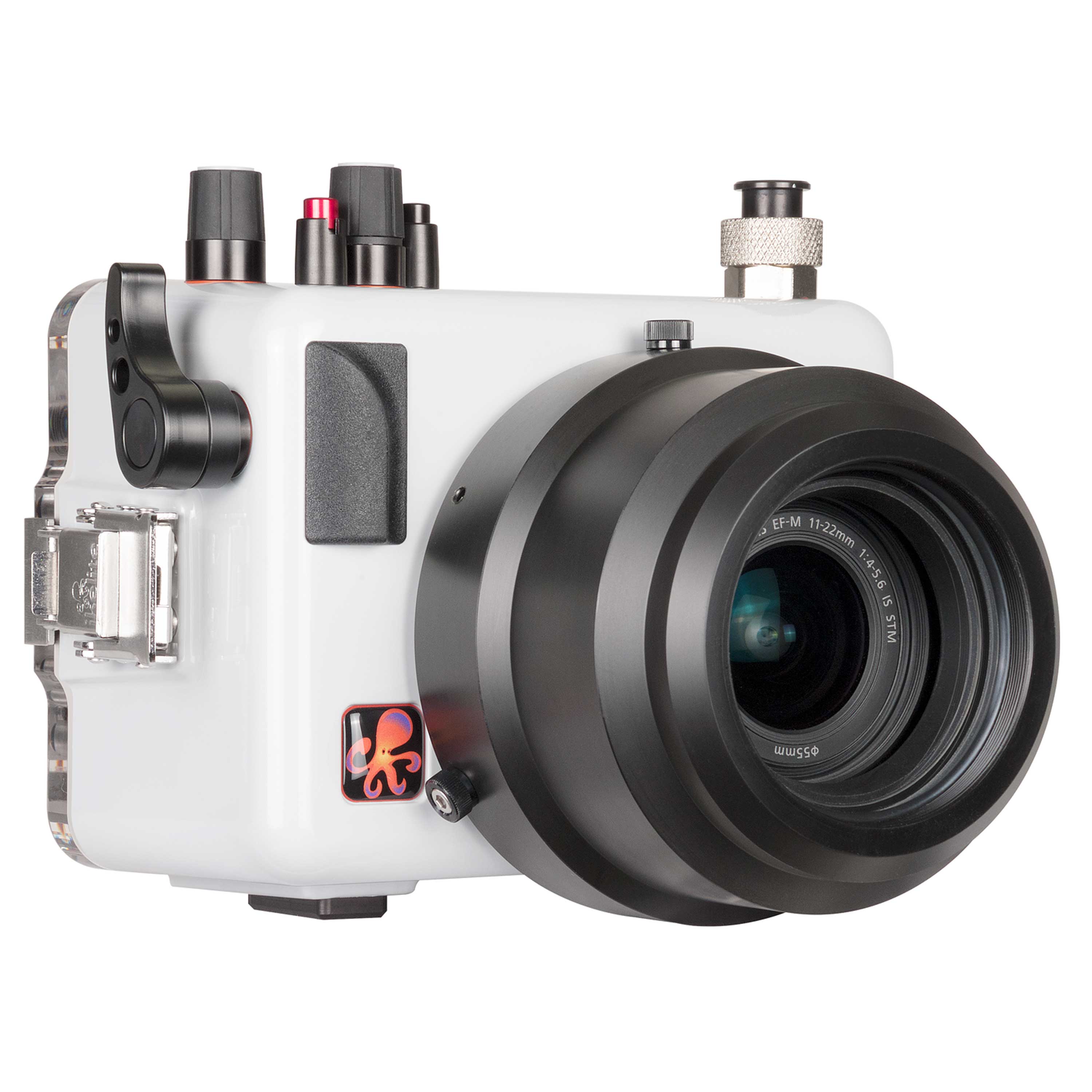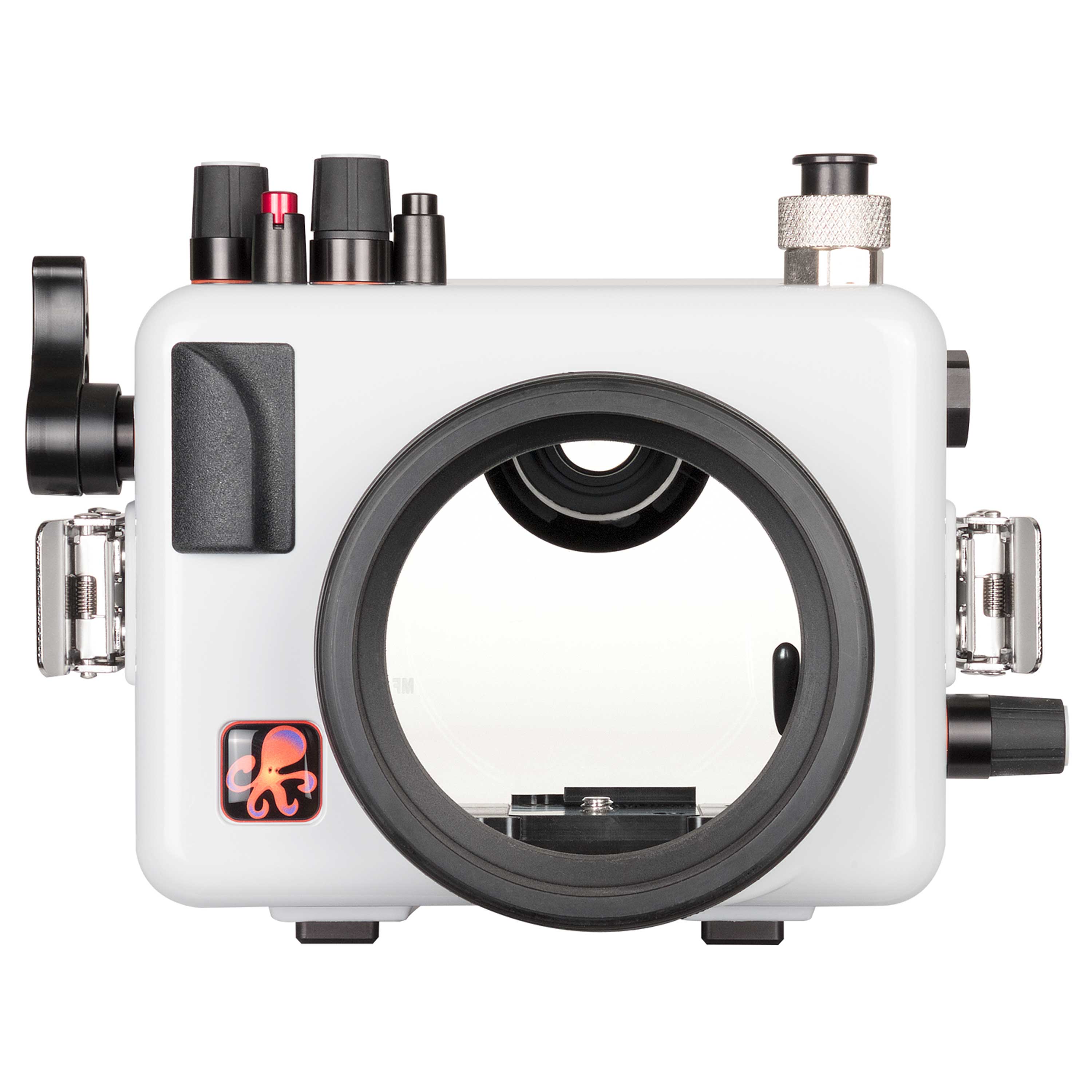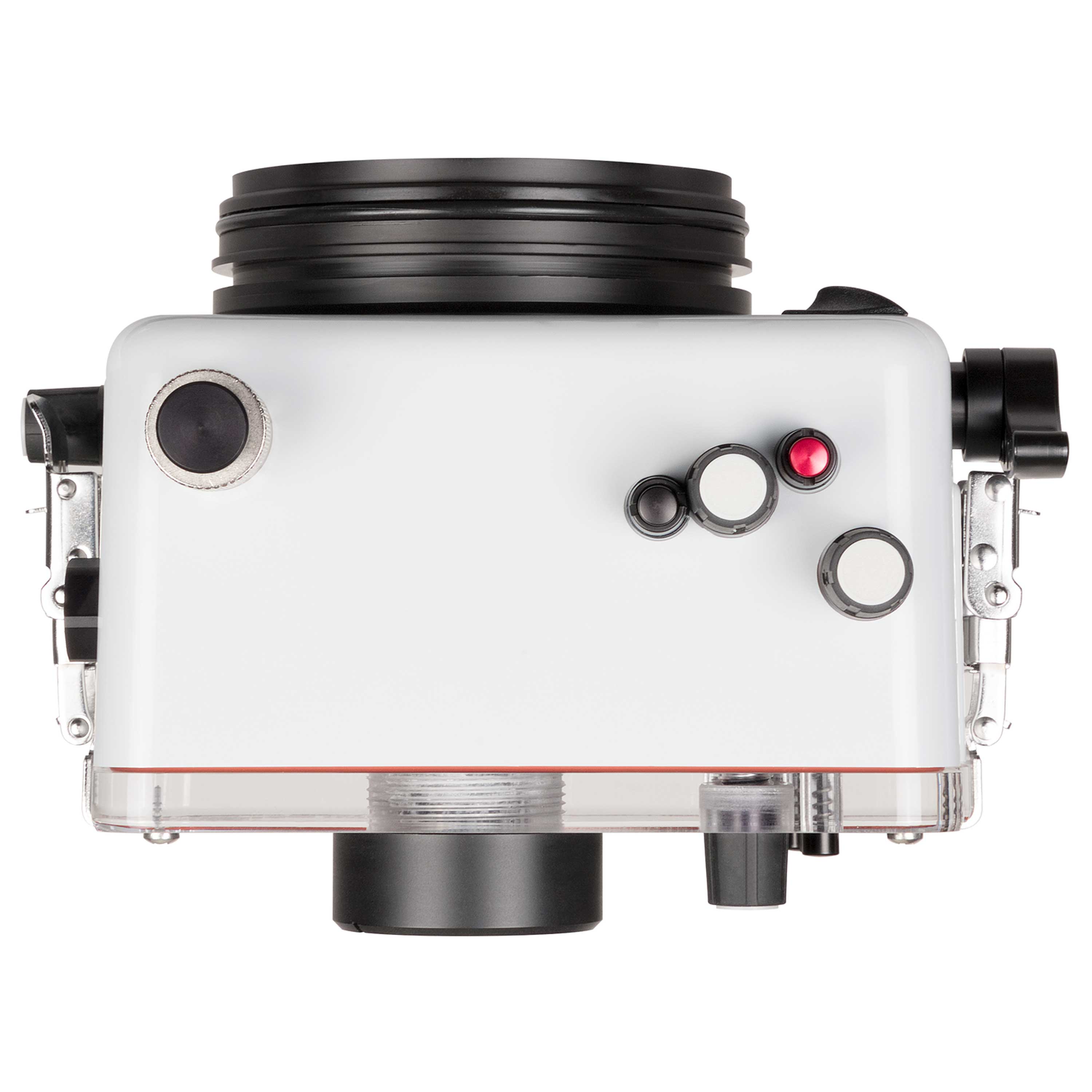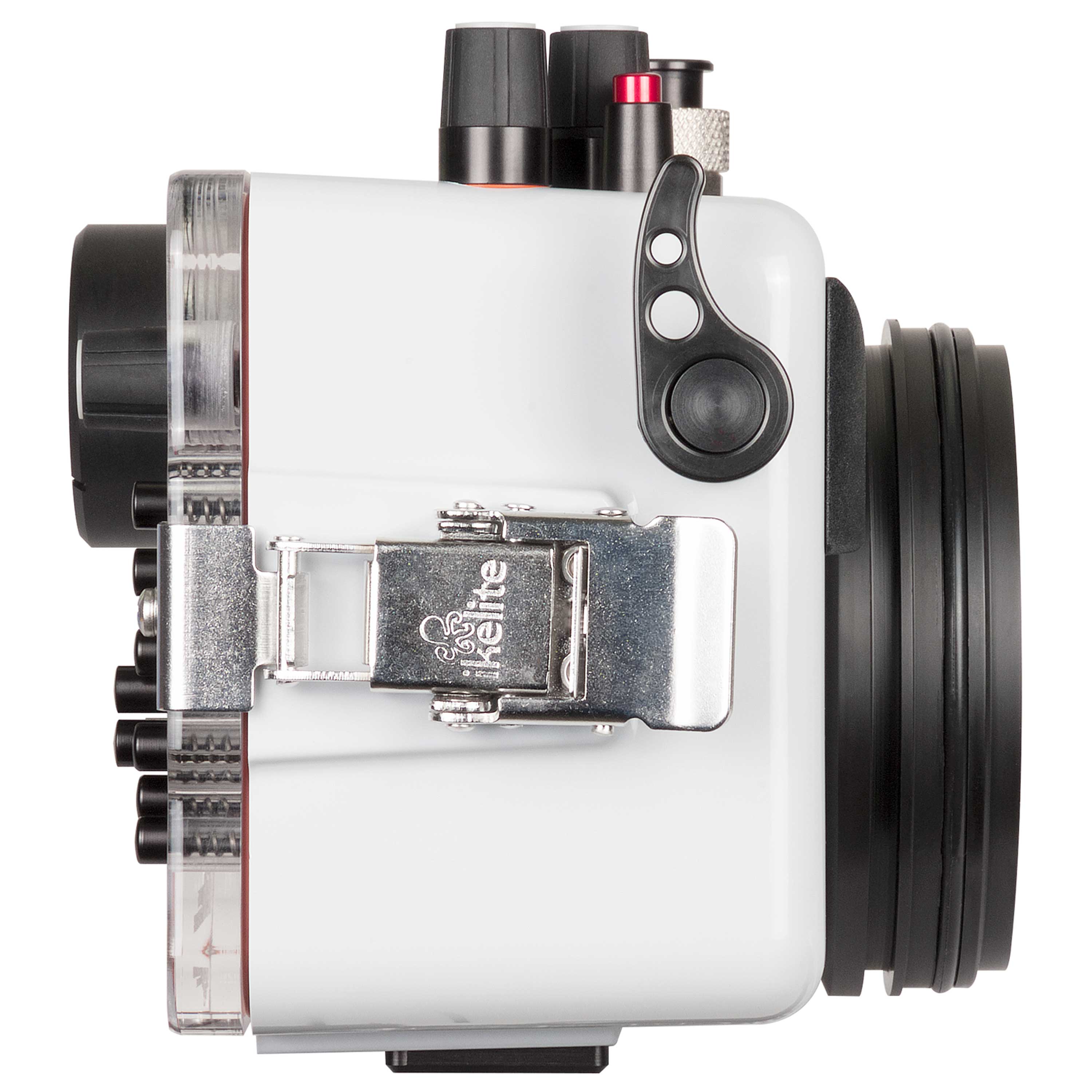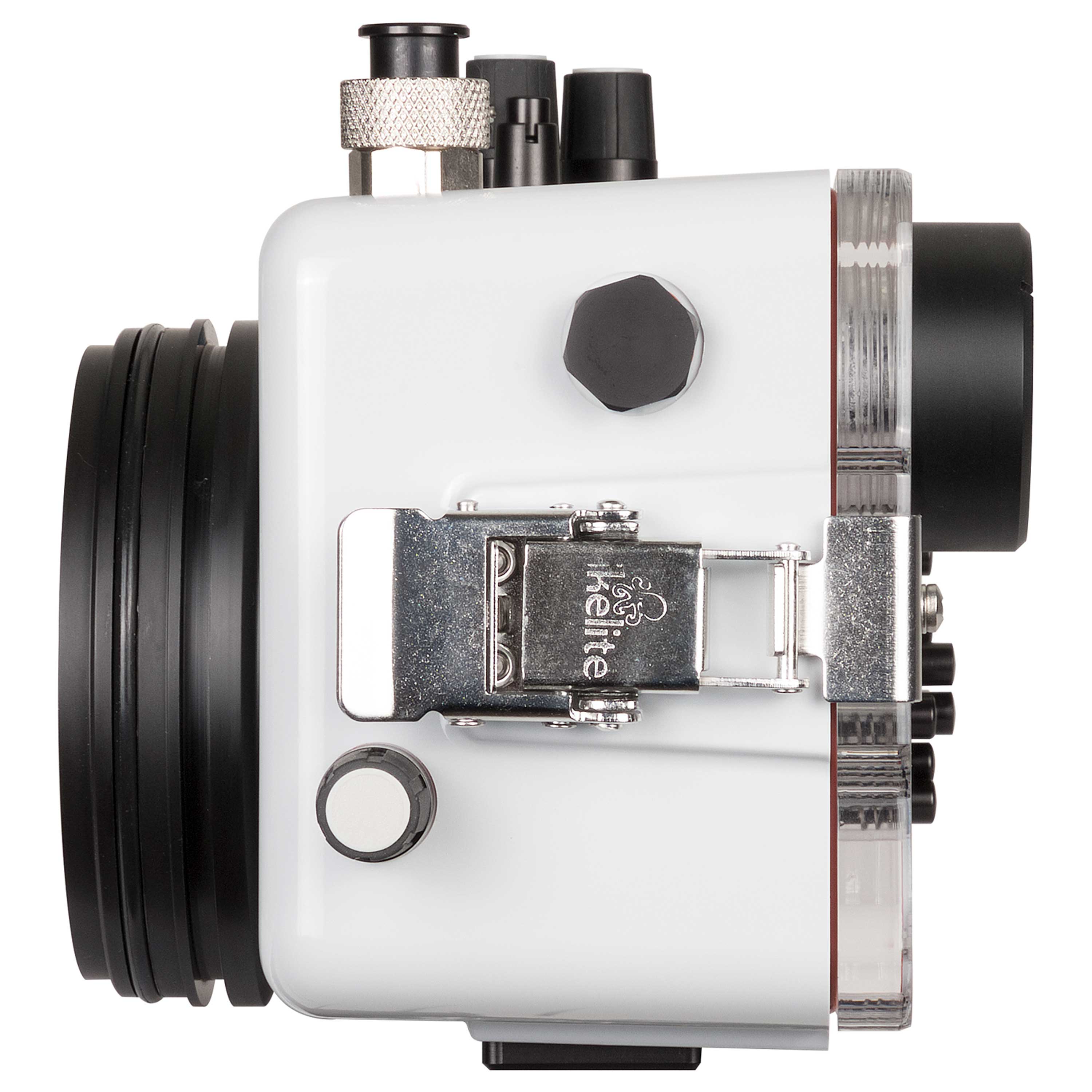 SKU: 6973.15
200DLM/A Underwater TTL Housing for Canon EOS M50, Kiss M Mirrorless Digital Cameras
---
This product has been replaced by the 200DLM/A Underwater Housing for Canon EOS M50, M50 II, and Kiss M # 69740. This product is out of stock and permanently out of production.
A professional grade, compact waterproof housing for Canon EOS M50 and EOS Kiss M mirrorless digital cameras. This system is perfect for any application in or around the water from scuba to surf to pool.
This housing requires the addition of a compatible DLM Lens Port for waterproof operation. Lens Port not included.
The Canon EOS M50 is a great mid-range compact mirrorless camera. A TTL flash hotshoe, 24MP APS-C CMOS sensor, and 4K video capture make it a good choice for underwater use.
True TTL exposure
Proper strobe exposure is the #1 most important contributor to sharp and colorful underwater photos, particularly below 30ft/10m. This is the only housing to include an integrated TTL circuit fine-tuned to the Canon EOS M50 flash exposure protocol for the fastest and most accurate exposure possible.
TTL communication by electrical sync cord improves camera battery life and recycle time, meaning you get many times more strobe-lit shots when you need them. 
The TTL circuit is powered by the strobe for zero maintenance and no batteries to change. Exposure compensation in TTL mode is supported using the camera's built-in control.
At this time, only Ikelite DS strobes are capable of powering the TTL circuitry. Non-Ikelite strobes featuring an electrical bulkhead may be attached by sync cord but must be used in manual exposure modes only.
The built-in flash is not usable in this installation. Triggering of fiber optic strobes is not supported at this time. A strobe must be connected by electrical sync cord.
Constant-On Lighting
A bright constant-on video light can be used instead of or in addition to a flash. A constant-on light is not as bright as a strobe flash. Constant-on lights do provide added versatility because they can be used for focus assist and for improved colors when shooting video.
Light is absorbed as it travels through even short distances underwater, making colors appear dull or monochromatic. To preserve the natural colors of your subject, it's important to stay within arm's reach—no more than 3-4 feet (1m) away.
There is a simple rule that brighter is better underwater. A high-quality lighting system can produce magazine quality results with almost any camera system.
Extensive Lens Support
High quality yet affordable optics are available for an extensive range of micro four-thirds lenses from wide angle fisheye to macro. Our custom optical grade acrylic domes provide the color, clarity, and durability of glass at a fraction of the weight and cost. Glass flat ports are available for macro lenses.
The DLM port system is designed to be tough enough for heavy surf and to provide reliability in remote locations. The lens port attaches without twisting, threading, or complex mechanisms.
Lens port sold separately. A compatible lens port is required for waterproof use. See the DLM/A Port Chart...
Controls and Ergonomics
A trigger-type shutter lever control is designed for optimal sensitivity and a natural motion when shooting underwater. The standard control hugs the side of the housing for comfortable use when hand holding. The lever can be easily extended using the optional Shutter Trigger Extension # 4077.95 for more comfortable reach when using a handle grip. 
Soft-touch knobs are easy to grip with or without gloves on and provide quick access to important controls including front and rear dials and the mode control. 
Hard anodized aluminum push buttons are extremely lightweight and resistant to salt build-up and corrosion. The back of the housing features laser engraved control symbols which will never fade or fall off.
Camera Installation
The camera mount is front-loading for easy installation and removal. A small mounting plate attaches to the bottom of the camera and secures in the front of the housing. The camera mounting plate does not need to be removed from the camera for surface use or when changing the battery or memory cards. The mounting plate features a 1/4-20 threaded mount on the bottom so that it can be attached to a tripod on the surface.
Viewfinders
The included Supereye Viewfinder provides an enhanced view of the camera's optical viewfinder when viewed through a dive mask.
Get the brightest and sharpest view of the camera's OLED EVF by adding an optional Magnified Viewfinder. The Supereye removes quickly and easily for the attachment of an Straight Magnified Viewfinder # 6890 or 45° Magnified Viewfinder (Type 1) # 6891.1.
The camera's large, super-bright LCD screen is viewable through the back of the housing and can be tilted prior to installation in the housing for a a better view underwater.
Accessory Mounting
Two 1/4-20 threaded mounting points are included on the bottom of the housing for the attachment of a tray and handle grips. Handles provide improved ergonomics underwater and are the foundation for your lighting mounts.
If you're shooting with two strobe or lighting arms, then a top handle can be added to carry to and from the dive site. Top handles are available in a Cable Grip # 4080.07 or Aluminum Top Handle # 4080.08. The rigid aluminum version provides additional mounting points for lighting and accessories.
Sealing and Vacuum Testing 
There is no greater assurance than being able to see your camera and o-ring seal through the back of the housing. Our signature open-groove design suspends the rear o-ring in a natural position that is easier to maintain and more reliable than forcing the o-ring into a channel. Once the housing is closed you can see the o-ring form a solid, waterproof seal.
A spare 1/2-20 threaded accessory port is provided on the side of the housing for easily installation of the optional Vacuum Kit # 47012. A hand pump with gauge allows you to draw a vacuum on the housing to simulate water pressure and check for leaks prior to entering the water.
Every unit is water pressure tested to 200 feet (60m) before it leaves our facility in Indianapolis.
Durability and Corrosion Free Performance
A custom ABS-PC blend housing provides strength and performance year after year with minimal maintenance. The ABS-PC material is fundamentally corrosion-proof and considerably lighter than aluminum. The specially formulated color deflects the sun to keep your camera running cooler, longer. Compared to black or clear housings, the light color provides superior contrast for enhanced view of the camera, LCD screen, and o-ring seal. 
Made in USA
Ikelite products are designed, built and tested in the USA. We use locally sourced, top-grade materials. Our housings are built by hand and individually tested for fit and function. We back our products with over 50 years of experience and the best reputation for service within the dive industry.
Compatibility
Differences in lens and control placement prevent other Canon cameras from being used in this housing. The Canon EOS M50 camera is not compatible with any other Ikelite housing models. 
This housing is only compatible with the Canon EOS M50 and EOS Kiss M cameras as shipped by the manufacturer. Unless otherwise noted, this housing does not accommodate the use of add-on grips, battery grips, eyepieces, LCD covers, or other accessories.
Optional Accessories
Spare Rear O-Ring # 0110  Carry a back-up in case original seal becomes damaged.
Spare Front O-Ring # 0132.36  Carry a back-up in case original seal becomes damaged.
Vacuum Kit for 1/2" Accessory Port # 47012  Check for leaks prior to entering the water.
Tray with Dual Quick Release Handles # 9523.64  Add a tray for easier handling and a second attachment point for strobes or lights.
Shutter Trigger Extension # 4077.95  Brings shutter and/or AEL/AFL / Fn1 lever out to handle for more comfortable use.
Adding an external strobe or video light enhances your photos' color and sharpness underwater. If you will be shooting below 30 ft (10m) or in an indoor pool, your photos will be predominantly blue-green without an artificial light source. Read more about strobe options
Specifications
200 ft (60m) depth rating
DLM/A port mount
Controls for all important camera functions; a control is not provided for the Wi-fi function 
Ikelite flash bulkhead connector with built-in TTL circuitry
Two 1/4-20 threaded tray mounts with 3" (76mm) spacing
Slightly negative buoyancy in fresh water
Actual buoyancy varies depending on choice of lens and port
2.7 lb (1225 g)
7.5 x 5.8 x 5.4" (191 x 147 x 137 mm)
ABS-PC, acrylic, and acetyl construction
2 year limited warranty
In the Box
Housing
Rear o-ring # 0110 (installed)
Front o-ring # 0132.36 (installed)
Waterproof bulkhead cap # 9104.7 (installed)
Silicone lubricant 1cc tube
Documentation