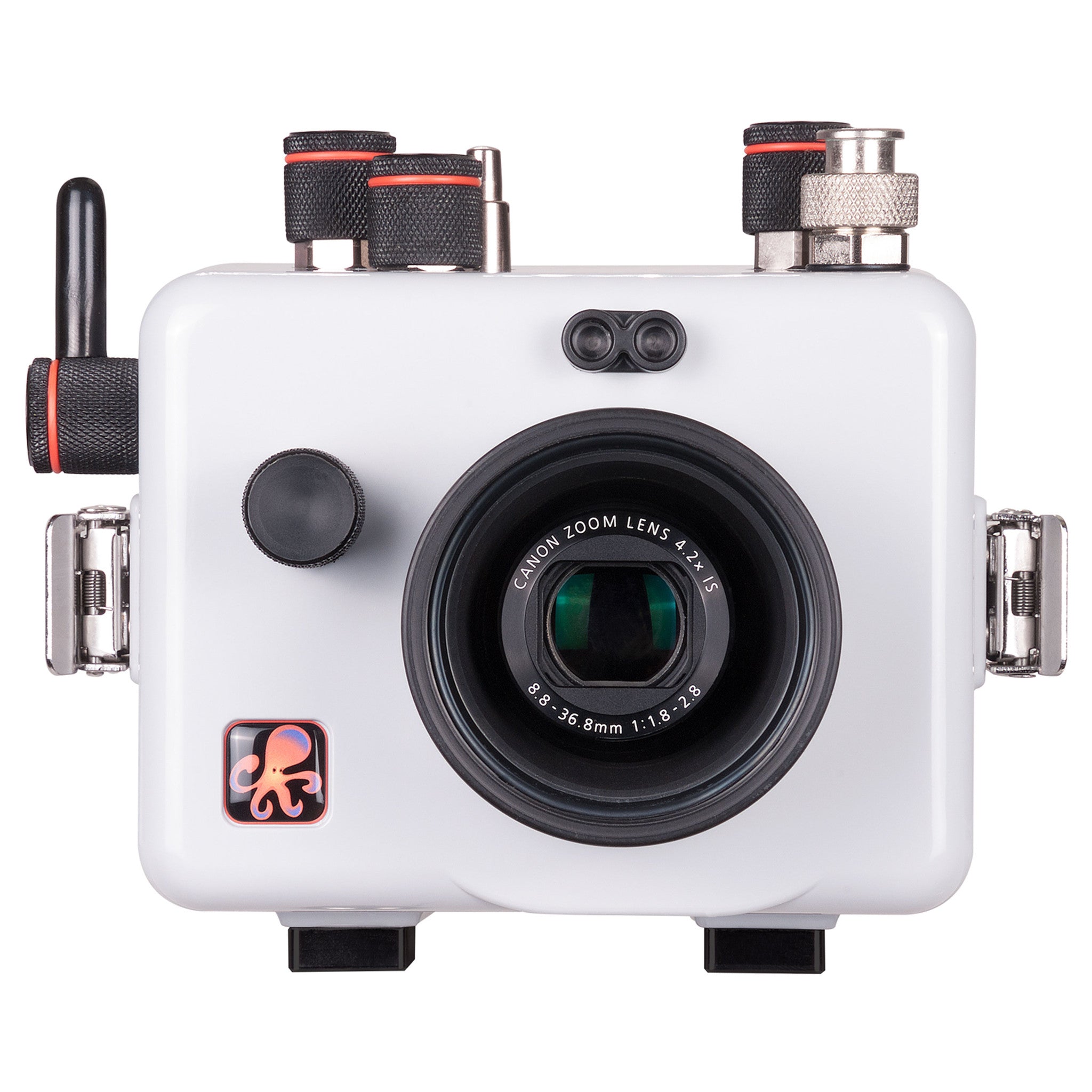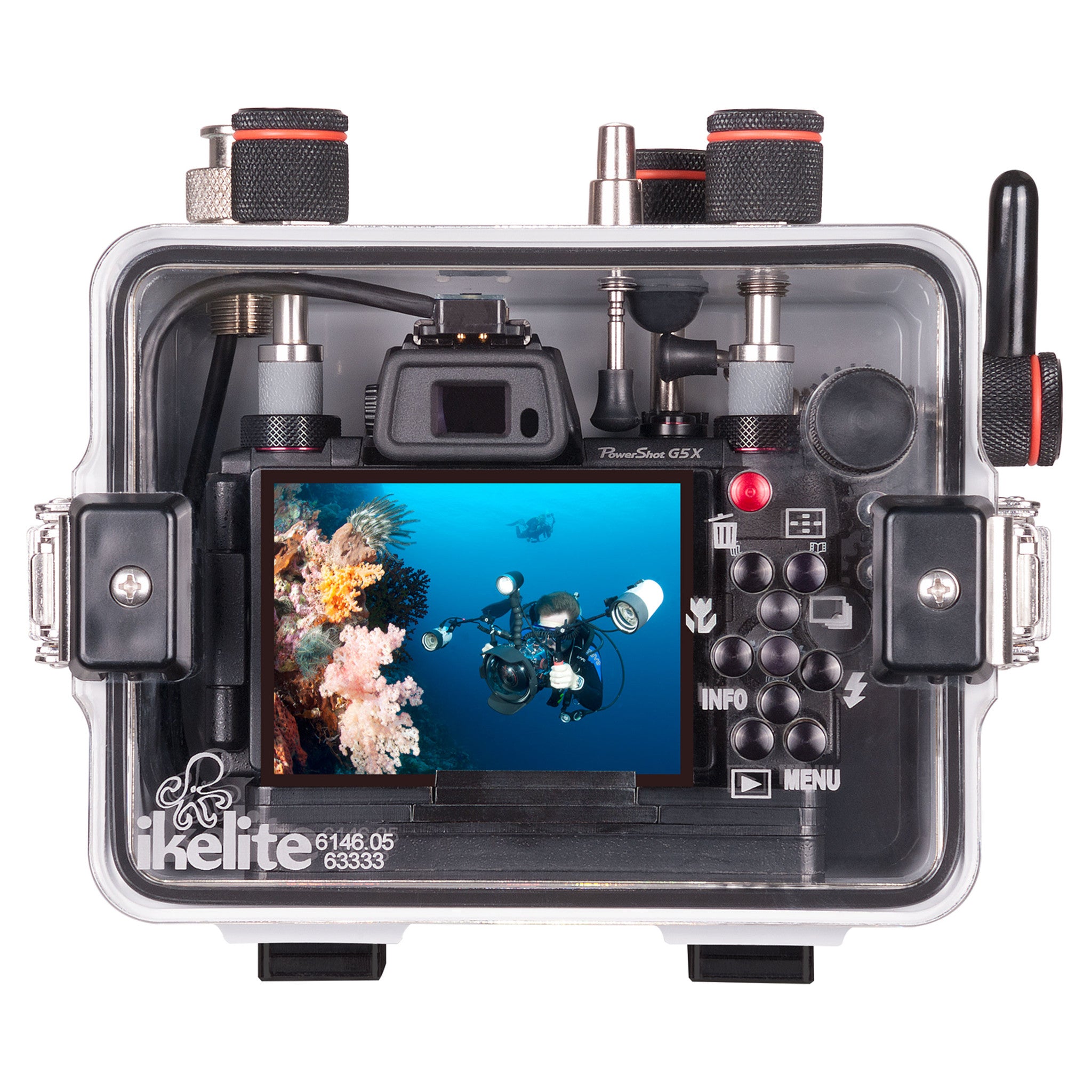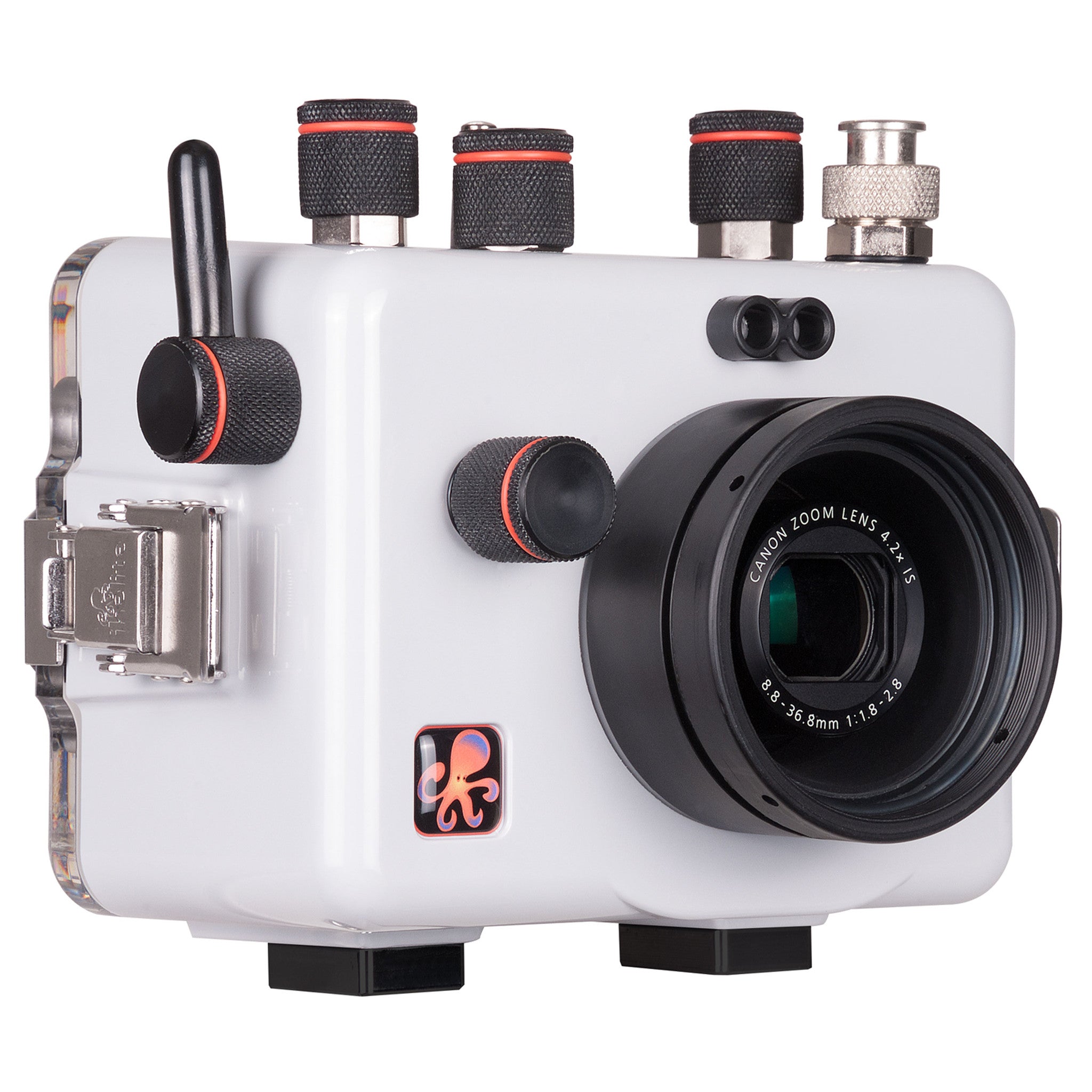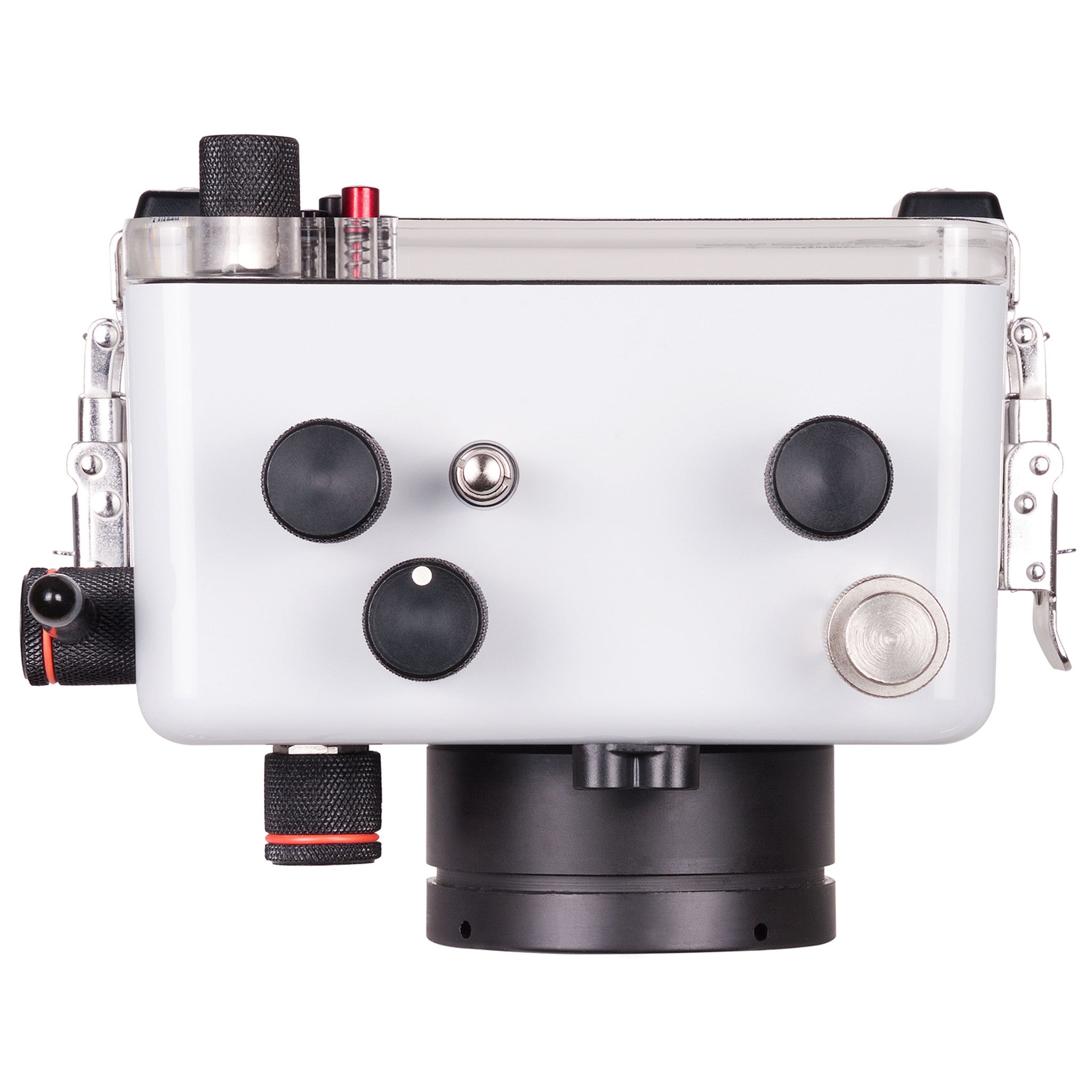 SKU: 6146.05
Underwater TTL Housing for Canon PowerShot G5 X
---
This housing is out of stock and permanently out of production. We have no remaining new, blemished, or used inventory. We continue to provide service of this product even though it has been discontinued.
The Canon PowerShot G5 X camera is the latest class-leading model from the venerated G-series of cameras. The G5 X is very similar in image quality and handling to its cousin, the G7 X, plus adds the critical ability to attach an external flash. This electrical flash connection provides extended battery life and rapid fire shooting beyond the capabilities of the G7 X and Sony RX100 series.

Unlike the G16 and other preceding models, Canon finally gives us TTL flash in Manual mode—making this a new favorite for underwater photography.
True Canon TTL
An integrated TTL circuit is fine-tuned to Canon's latest flash exposure protocol for the most accurate exposure possible with the Canon PowerShot G5X camera. The circuit is powered by the strobe for zero maintenance and no batteries to change. Exposure compensation in TTL mode is supported using the camera's built-in control. At this time, only Ikelite DS strobes are capable of powering the circuitry. SEA&SEA, INON, and Nikonos strobes will still enjoy fast recycle times and improved battery life, but must be used in manual exposure modes only.
A fast and reliable strobe connection is essential to getting the shot underwater. This housing provides a direct electrical connection to the camera's external flash hot shoe. Cord attachment is as easy as screwing in a lightbulb, and the threaded fit prevents accidental detachment during use. The bulkhead connection has been moved to the top of the housing to keep cords out of your way and reduce strain on the cord ends. A variety of sync cord terminations are available for Ikelite, SEA&SEA, INON, or Nikonos strobes for ultimate versatility.
Two fiber optic ports are built into the front of the housing provide an attachment point for fiber optic cords from most major manufacturers. The camera's built-in flash is suitable for firing an external strobe, but not for lighting a photo underwater. Use of a fiber optic connector requires the camera's built-in flash to fire, bypassing the TTL functionality of the housing.
Great Handling
A compact mounting tray attaches to the camera's tripod attachment point and slides into the front of the housing simply and securely. The mounting tray features a 1/4-20 tripod mount so that it doesn't need to be removed when you switch to surface photography.
Canon is known for its ergonomic controls. A full set of controls is mimicked in the housing with controls that are larger and easier to access even with thick gloves. Whenever possible, controls are located in the same configuration as on the camera to replicate the muscle memory and familiarity you've developed with your camera on the surface. Control symbols laser engraved into the back of the housing will never peel off or fade even with years of use.
There are two 1/4-20 mounts on the bottom of the housing for secure, rotation-free mounting of an optional tray and handles.
Wide Angle + Macro
Our 3-inch diameter ports feature a 67mm thread on the front for the easy attachment of external wide angle and macro wet lenses. Wide angle lenses make objects appear smaller, so that you can fit more into your frame underwater. Macro close-up lenses make small objects appear larger, so that tiny creatures will fill your frame.
The WD-3 Wide Angle Dome provides mid-range angle of view with no vignetting (dark shadows in the corners of the image).
The W-30 Wide Angle Lens, INON UWL-H100, and other 67mm threaded wide angle lenses, provide a wider maximum angle of view. Because these are separated from the camera's lens by glass, air, and water, some vignetting and edge distortion will be present. These effects can be reduced or eliminated by using a smaller aperture, zooming in slightly, and/or cropping in post-production.
External macro lenses with 67mm threads from INON, Epoque, and other manufacturers, can be attached directly to the front of the housing's port.
3-inch diameter color filters press directly onto these ports. Most wide angle lenses require a 3.6-inch diameter color filter. Refer to the product page for information on color filter compatibility.
See the O-Ring Seal
An o-ring works best when it's true to its original form. Our signature open-groove design suspends the rear o-ring in a natural position that is easier to maintain and more reliable than forcing the o-ring into a channel. For added reassurance, there's no substitute for inspecting the actual o-ring seal through the back of your housing once it is closed. Polycarbonate is fundamentally corrosion-resistant for easy maintenance year after year.
The camera's built-in Wifi can be used through the housing to transfer your photos effortlessly after the dive without opening your housing. Wifi function cannot be used underwater.
We are proud to offer the only housing and lighting system for the Canon PowerShot G5 X that is 100% designed, built, and tested in the USA. Our housings are handmade and individually inspected for fit, function and waterproof integrity. The average assembly technician is a certified scuba diver and has over 16 years of experience building Ikelite products. We back our products with over 50 years of experience and the most accessible and responsive customer service staff in the dive industry.
In the Box
Housing
O-ring # 0110
Vinyl port cover # 0200
Lanyard # 0321.10
Waterproof bulkhead cap # 9104.7
Specifications
200' / 60 m depth rating
All important camera functions are accessible
Controls are not provided for the Diopter Adjustment Dial or Mobile Device Connect button; Mobile devices may be connected through the housing using the camera's menus
Ikelite bulkhead connector with built-in TTL circuitry
1/4-20 thread tray mounting with 3" (76 mm) spacing
3.0" diameter glass lens port with 67mm threaded front
Slightly negative buoyancy in fresh water
3.3 lb (1500 g)
7.4 x 5.8 x 5.8" (188 x 147 x 147 mm)
2 year limited warranty
Documentation