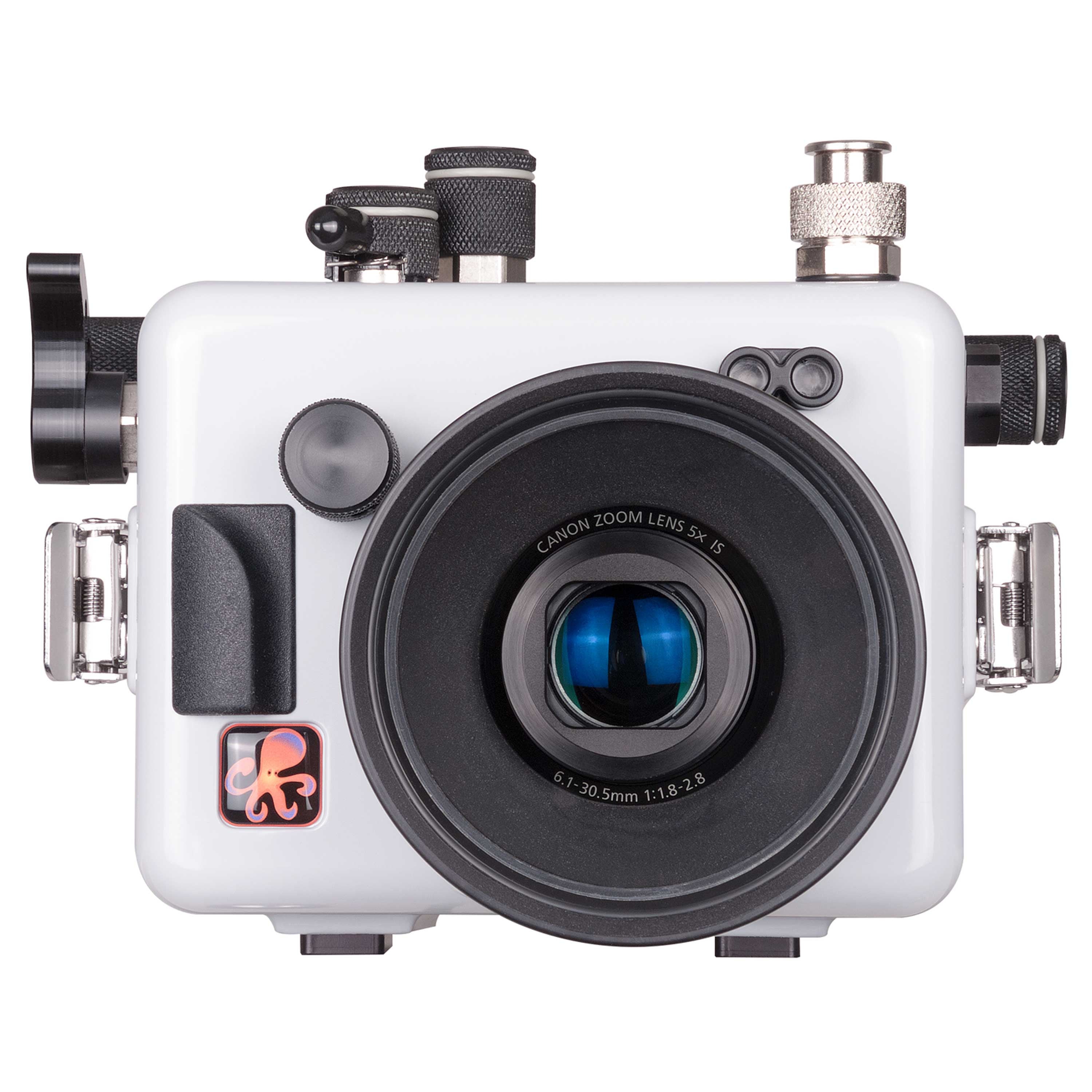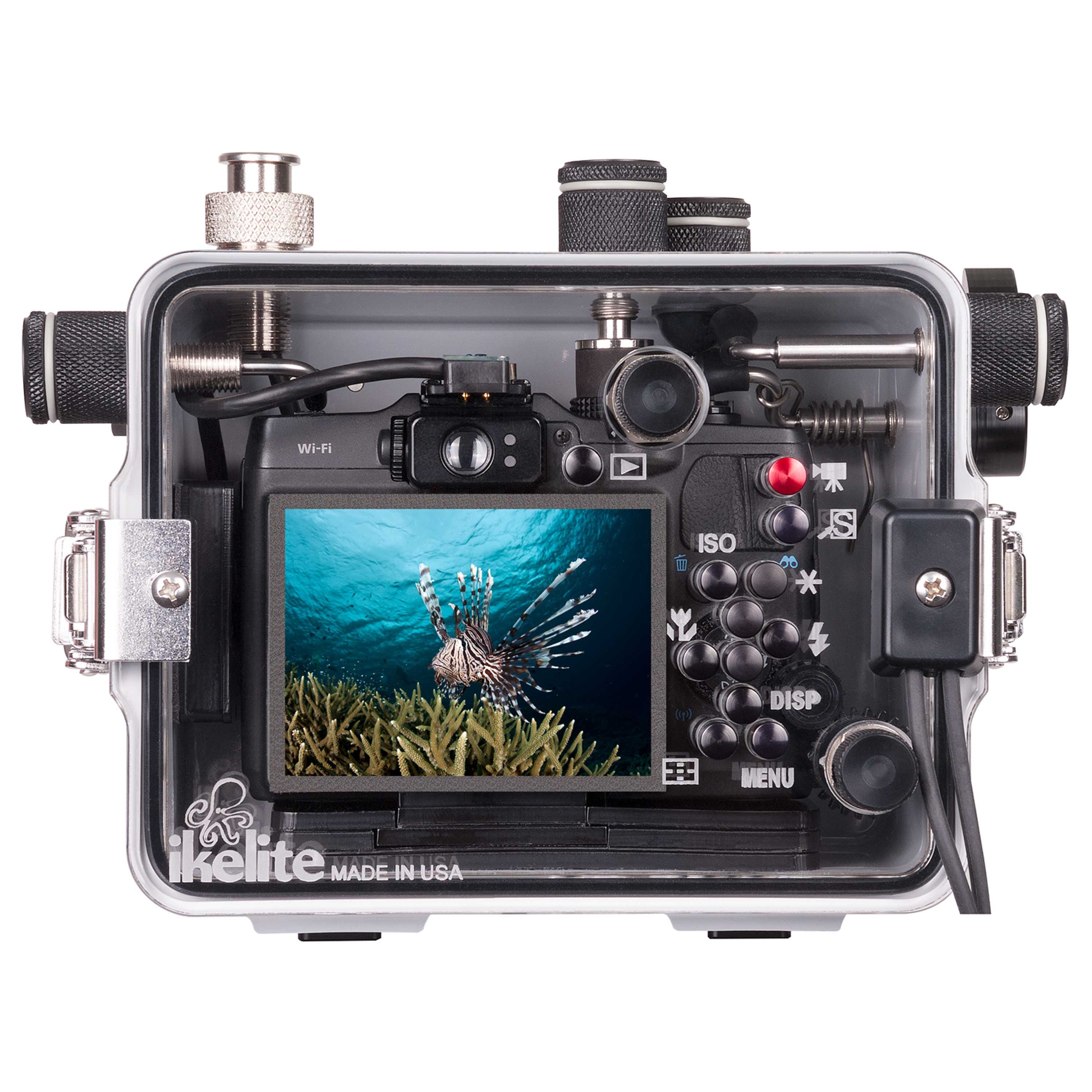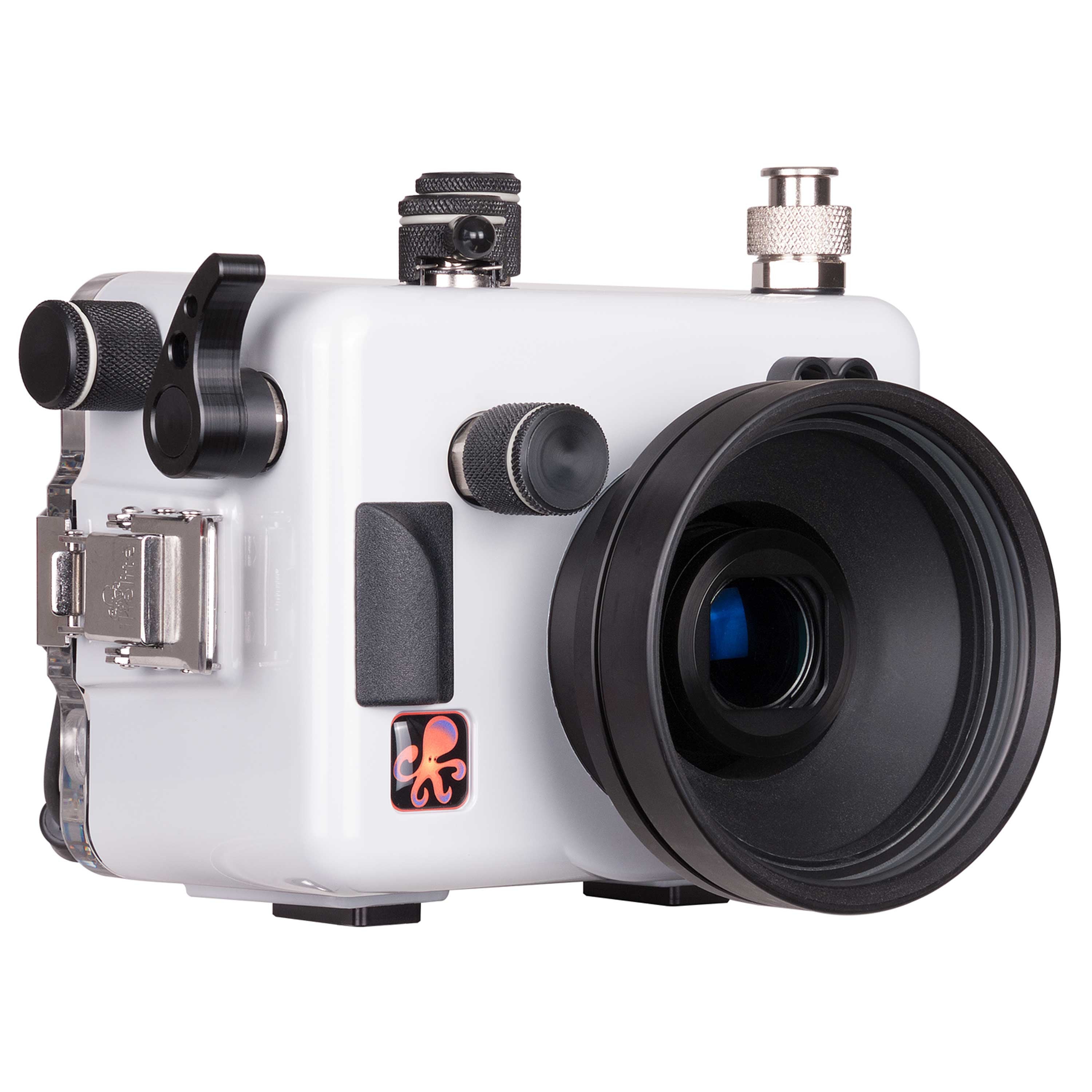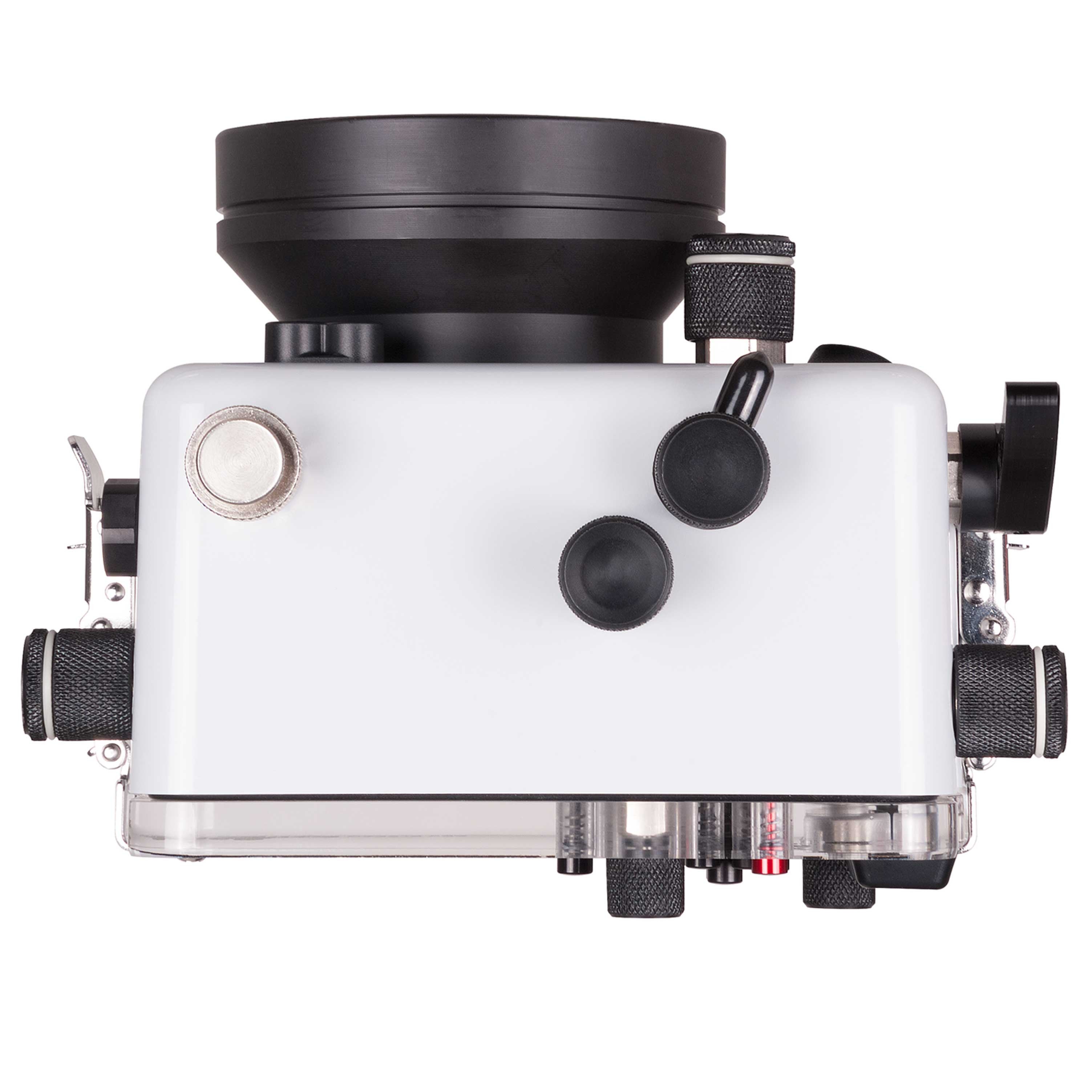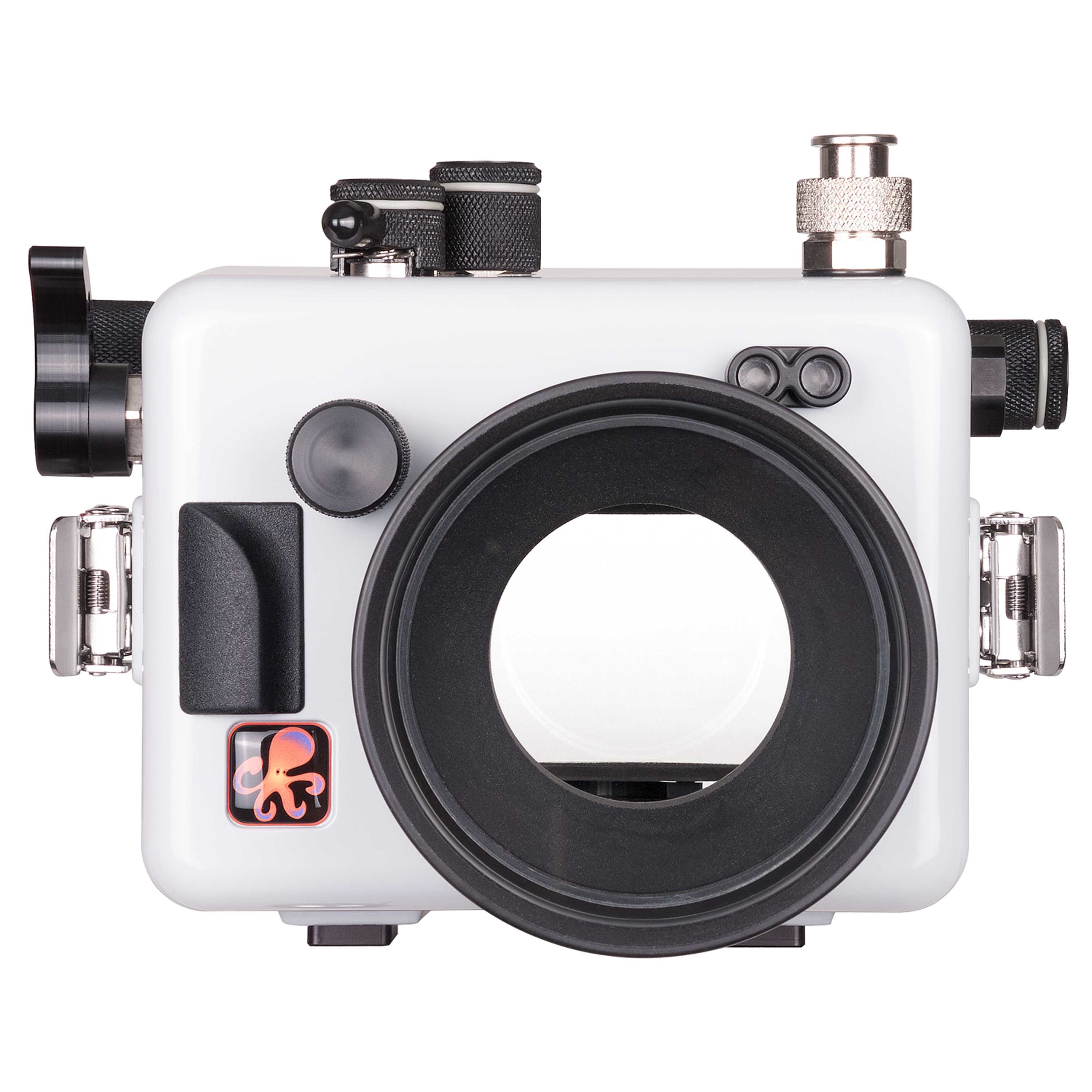 SKU: 6146.17
Underwater TTL Housing for Canon PowerShot G16
---
This housing is out of stock and permanently out of production. We have no remaining new, blemished, or used inventory. We continue to provide service of this product even though it has been discontinued.
This compact and lightweight housing provide all important functions of the Canon PowerShot G16 up to depths of 200 feet (60m). Large, easy-to-reach controls are provided for all camera functions including the rear dial and custom function controls. Control functions are placed in a similar configuration to the camera's layout for the most natural operation taking advantage of the muscle memory you've already developed in surface use. Rear controls are marked with easy-to-see laser engraved symbols which never fade or fall off. The front-loading camera mounting system makes installation and removal a breeze. The camera mounting plate allows ready access to the battery and memory card, and features a standard 1/4-20 mounting point for attachment to a tripod topside.
Wide angle and macro close-up
The optional WD-4 Wide Angle Dome provides a wider angle of view underwater without the edge distortion, vignetting, or weight typically associated with an external wide angle lens. The WD-4 is a 0.75x magnification factor and simply slides on and off of the housing's lens port.
A press-fit Macro Adapter # 9306.82 (sold separately) is available for the attachment of 67mm threaded accessory macro lenses. We recommend a macro lens which is designed for underwater use like those from Epoque, INON, Subsee, Nauticam, and other manufacturers. The adapter should not be used with 67mm threaded wide angle lenses. The wide angle lens would be too far away from the camera's lens to provide an improved image.
Color correction and external lighting
An integrated TTL circuit is fine-tuned to the Canon G16's flash exposure protocol for the most accurate exposure possible. The circuit is powered by the strobe for zero maintenance and no batteries to change. Exposure compensation in TTL mode is supported using the camera's built-in control. At this time, only Ikelite DS strobes are capable of powering the circuitry. SEA&SEA, INON, and Nikonos strobes attached via electrical sync cord will still enjoy fast recycle times and improved battery life, but must be used in manual exposure modes only.
This housing provides a direct electrical connection to the camera's external flash hot shoe. Cord attachment is as easy as screwing in a lightbulb. The threaded fit prevents accidental detachment during use. The bulkhead connection has been moved to the top of the housing to keep cords out of your way and reduce strain on the cord ends. A variety of sync cord terminations are available for Ikelite, SEA&SEA, INON, or Nikonos strobes for ultimate versatility.
The camera's built-in flash is suitable for firing an external strobe, but not for lighting a photo underwater. Two fiber optic ports are built into the front of the housing provide an attachment point for fiber optic cords from most major manufacturers. Use of a fiber optic connector requires the camera's built-in flash to fire, reducing battery life and bypassing the TTL functionality of the housing.
A bright constant-on video light can be used instead of or in addition to a flash. Constant-on lights provide added versatility because they can be used for focus assist and for improved colors when shooting video. A constant-on light is not as bright as a strobe flash.
Two 1/4-20 threaded mounting points are included on the bottom of the housing for the attachment of a tray and handle system. Handles provide improved ergonomics underwater and are the foundation for your lighting mounts.
There is a simple rule that brighter is better underwater. A high-quality lighting system can produce magazine quality results with almost any compact camera system.
Durability and corrosion free performance
Our brand new ABS-PC blend provides strength and corrosion free performance year after year with minimal maintenance. The specially formulated color deflects the sun to keep your camera running cooler, longer. Compared to black or clear housings, the light gray color provides superior contrast for enhanced view of the camera, LCD screen, and o-ring seal.
The unique rear seal design prevents accidental twisting or stretching of the o-ring for simple and confident assembly. We have eliminated the need for an o-ring groove or channel which can trap sand, dirt, or debris. Two double-passivated stainless steel locking lid snaps are simple to use and virtually unbreakable. The clear back allows you to see the o-ring form a solid, watertight seal as it closes.
Ikelite products are designed, built and tested in the USA. We use locally sourced, top-grade materials. Our housings are built by hand and individually tested for fit and function. Every unit is water pressure tested to 200 feet (60m). We back our products with over 50 years of experience and the best reputation for service within the dive industry.
Compatibility
Older Canon G-series cameras are not usable in this housing due to differences in lens and control placement.
In the Box
Housing
O-ring # 0110
Bulkhead cap # 9104.5
Vinyl port cover # 0200.08
Silicone lubricant 1cc tube
Specifications
200' / 60 m depth rating
Controls for all camera functions except Diopter Adjustment Dial and Flash Switch
Ikelite 5-pin bulkhead with TTL circuitry
Slightly negative buoyancy in fresh water
3.9 lb (1.6 kg)
6 x 7.2 x 5.9" (152 x 183 x 150 mm) including projections
3.9" (99 mm) diameter glass lens port
2 year limited warranty
Documentation